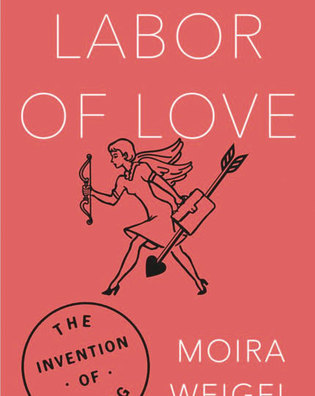 Labor of Love: The Invention of Dating
Moira Weigel '17phd
Farrar, Straus, and Giroux, $26
Review by Sylvia Brownrigg '86
Sylvia Brownrigg '86 is the author, most recently, of the novel Pages for Her, to be published next year.

As its title suggests, Labor of Love is an entertaining survey of courtship rituals. It is also a fascinating social history of the commodification of "personality" in Americans' quest for romantic fulfillment. In the twenty-first century, the public self, once formed substantially by one's family background and social standing, is now for many Americans more like a commercial product: developed and market-tested. Whether you're a teen curating your Instagram account or an adult seeking companionship, "You must learn to brand yourself," as Moira Weigel puts it, to "be searchable by the right people."
Weigel, a graduate student in comparative literature, wittily interprets cultural artifacts ranging from fictions by O. Henry and Don DeLillo to movies such as Miss Lonelyhearts and Risky Business, from ads for Virginia Slims to articles in Elle and the New York Times. Her own unhappy experience with bad relationships in her 20s gives Weigel insight into contemporary dating mores, as well as a deft read on websites such as OkCupid or Tinder.
Weigel starts her main narrative in the early part of the twentieth century. Arguing that "the ways people work have always shaped the ways they date," she finds that as women increasingly entered the work force, there was a shift in the qualities thought to make a good wife. When single people started to meet in public spaces rather than private homes, women had to learn new ways of presenting themselves. Weigel emphasizes the relation between the rise of consumer culture and dating culture, and catalogues the many economic metaphors that lace our language about romance.