Yale Alumni Classifieds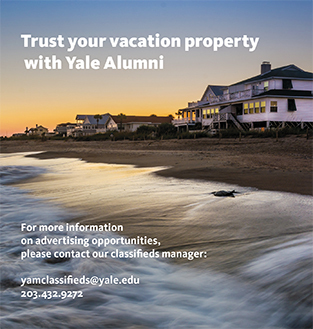 YALE GRAD NARRATED POETRY,
from the book, Of Life and Magic. Please visit:
"youtube.com" search "Bruce H. Slater Playlist".
Thanks for your support!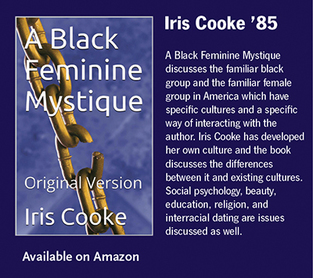 New Haven Auctions - Auctioneers of Antiques, Fine Art, Jewelry, Coins and Collectibles. Accepting consignments for our next auction. NewHavenAuctions.com. 475-234-5120.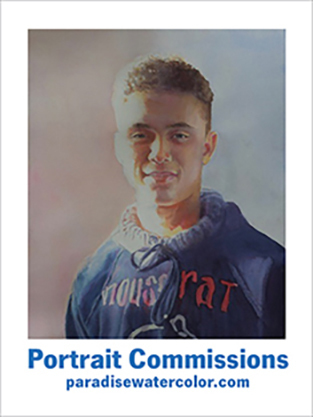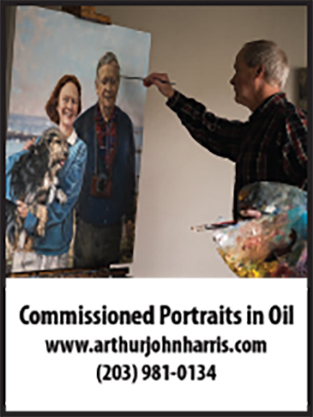 Are You a Writer? Award-winning author and Yale/Iowa Writers' Workshop grad offers developmental editing for your novel, memoir, or other book, along with writing and publishing consultations. anjalisachdeva.com/editing.
Are you ready to share your knowledge, passions or wisdom? Publisher Gail Woodard (SOM '79) has assisted select Yale alumni to publish their books. Could you be next? Call 520-329-2729. www.DudleyCourtPress.com.
Charles D. Miller III, YC '74. Fine African Art since 1968. Extensive West African Field Experience. Professional appraisals. References Available. 631-584-7965.
FOOTBALL MEMORABILIA- Rare 1900 Yale/Harvard football program: excellent condition, only one known in existence. Original sheet music of "Boola" written by Allan Hirsh (YC 1901) for the 1900 game. 1909 Yale/Princeton football program: Yale's finest team, 10-0, didn't allow a point and were named National Champions. For more information, call (203) 934-5609.
A charismatic, aging French rock star will compose and record an original song for you, your mom, your lover or your pet in French, English, or Franglais (recommended). US $200. Contact: lodbrogsagent@gmail.com. (imrelodbrog.com).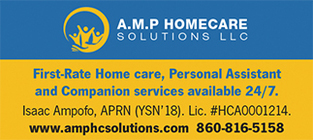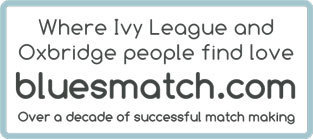 THERIGHTTIMECONSULTANTS.COM established (2006) results driven NY-based firm seeking single, eligible men 35-75 to be introduced to our attractive, accomplished female clients. bio/photo in confidence: sandy@therighttimeconsultants.com. 212-627-0121.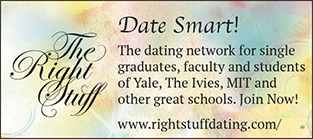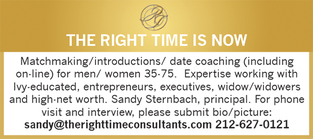 NEW YORK CITY APARTMENTS: Buying, selling or renting. Licensed R.E. agent: Yale alum- John Davison 212-706-0740. john@johndavison.net.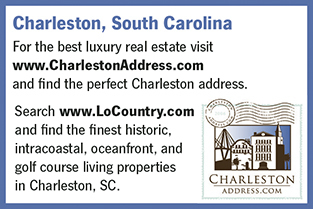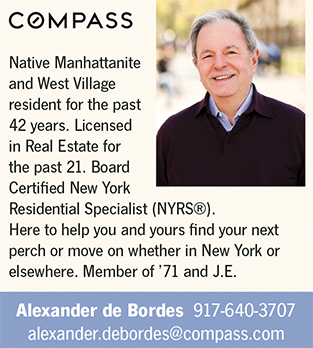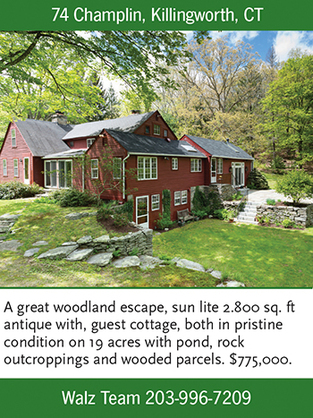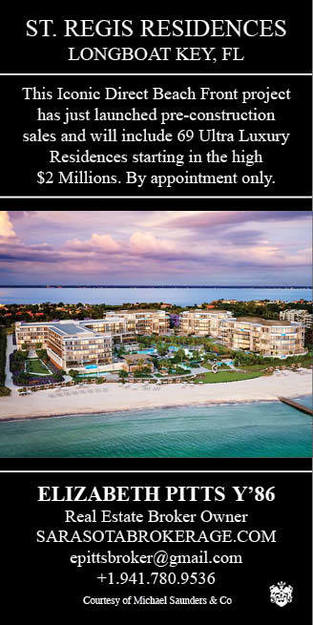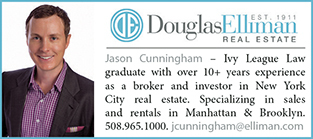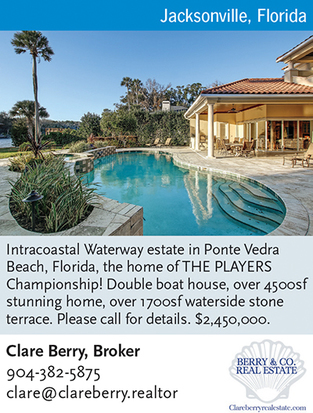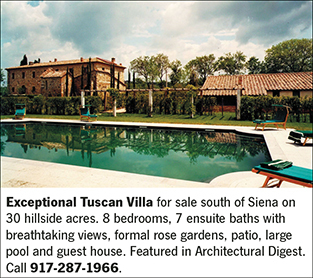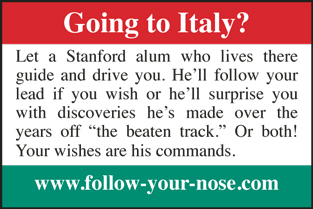 NEWFOUNDLAND AND LABRADOR: The world's largest gathering of humpback whales! The largest Atlantic puffin colony in North America! 15,000 year old icebergs! 565 million year old Ediacaran fossils! Four UNESCO World Heritage Sites! Dramatic vistas, local culture and cuisine, abundant wildlife, coastal communities. We can go on and on! Don't believe us? Come discover for yourself! Join Wildland Tours for one or two gentle, 7-day, small group, escorted adventures led by local, knowledgeable tour guides. Enjoy exhilarating days and comfortable nights. Since 1984, our guests have been creating incredible lifetime experiences through the appreciation of our wildlands and oceans. We're waiting for you! www.wildlands.com 1-888-615-8279.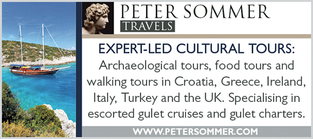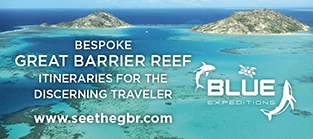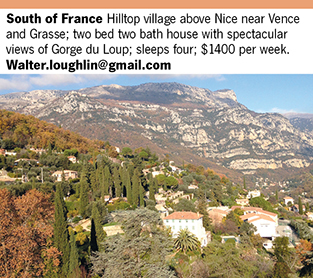 France, 16th-Century Chateau in southwest France. Luxuriously appointed. Fairy-tale towers, baronial hall. Breathtaking pool house with infinity pool. Sleeps 16. knock@chateau-x.fr (Yale '92).
France, Paris, Ile St. Louis: Elegant, spacious top-floor skylighted apartment, gorgeous view overlooking Seine, 2 bedrooms sleep 4, 2 baths, elevator, well-appointed, full kitchen, Wi-Fi. 678-232-8444, triff@mindspring.com.
France, Paris, Marais/Bastille: Enchanting one- bedroom, renovated apartment on quiet pedestrian gated passage. Skylights, Parisian decor, Wi-Fi. Full kitchen. Fantastic location on cobblestone street. Walk to Place des Vosges, Seine, markets. Sleeps 2–3. Photos and info: www.charmingparisapt.com.
France, Provence: Delightful 5 bedroom house, walk to town, pool, vineyard, weekly market, Roman ruins. www.frenchfarmhouse.com.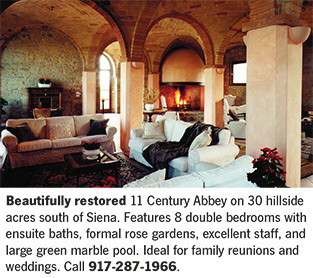 Italy, Tuscany: 5 bedroom, 5 bathroom beautiful villa. Spectacular views, gorgeous pool & gardens. 5 star reviews. www.LuxuryVillaTuscany.com.
PARIS - MARAIS. Renovated 17th-century, tri-level, top-floor, courtyard apartment. Central, quiet, exposed beams, hardwood floors, fireplace, fully equipped. Non-smokers. Week/Month. 206-723-6538; www.acrossthewater.net.
Paris, near Musee du Louvre, Opera Garnier, Place Vendome. Family owned, comfortably furnished. Sleeps 2. Length Stay fixes terms. Six night limit. apower7@icloud.com. 831-521-7155.
Tuscany Montepulciano: culture, wine, thermal bath country. Spacious 3-4 bedrooms/3 baths (3000euros/wk) or 2 bedroom/2baths (2500 euros/wk), apartment in city center – views of countryside from terrace and garden; fully equipped kitchen, laundry, WiFi. Day trips to Siena, Florence. 2 weeks min. skim@koetterkim.com.
France, U.K., Australia, Italy, U.S. and more Furnished homes listed by academics available worldwide for rent or exchange with home sharing and house sitting options. Explore your next vacation or sabbatical destination today! www.sabbaticalhomes.com.