Yale Alumni Classifieds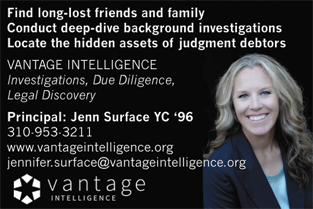 Attorney focuses on Americans abroad & globally mobile. U.S. immigration & nationality. Foreign spouse. Child born abroad. Renunciation risks. Dual nationality. 7-nationality ban on Iranians, Syrians, Iraqis +4. Margaret Alden Moody. JD UC Davis, MA Yale. www.ipcLAW.net, margaretalden@aya.yale.edu, 415-299-2705 (GMT-8)
Yale BFA, painter between galleries. View by appointment. Chelsea, NYC frivera0828.com
THE ARTIST STUDIO AND RETREAT ON MARTHA'S VINEYARD is an ideal space to work and live for dancers, musicians, actors, writers, photographers and other visual and performing artists. The Studio is available for rehearsals, workshops, conferences and exhibits. The main space is 1,200 sf with a cathedral ceiling, a lighting grid, a soundboard, a Steinway baby grand and more. There is an addiitonal 600 sf of living space with a galley kitchen and bathroom. The Artist Studio is located near beaches, town, and nature preserves. It is available weekly from May 15 - September 15, 2017 at $3,000 - $5,000. Visit our website at theartiststudiomv.com.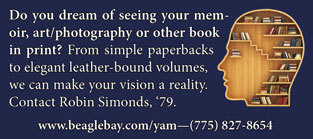 Are you ready to share your knowledge, passions or wisdom? Publisher Gail Woodard (SOM '79) has assisted select Yale alumni to publish their books. Could you be next? Call 520-329-2729. www.DudleyCourtPress.com
Inkwater Press seeks fiction and nonfiction manuscripts. Royalties. www.inkwaterpress.com. (503)968-6777.
Academic Tutoring. Test Prep. Your Home YOUR convenience. www.ivybound.net 203-692-2299
Quality home health and companion services available 24/7. We manage long and short term cases. www.amphcsolutions.com Contact: Isaac Ampofo, RN (YSN 2018), 877-800-2047.
SINGLE MEN WANTED! Matchmaking Service is offering complementary memberships to men. Our clients are attractive accomplished women. 212-877-5151, fay@meaningfulconnections.com.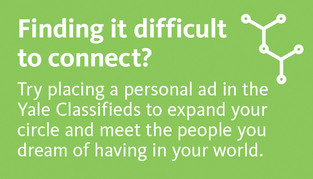 We Make Dating Fun and Productive! The Right Time Consultants LLC, covering New York, New England, Washington D.C., Florida. Matchmaking for men and women 45-78. Special expertise with widowed, high-net worth and gifted. For consideration, bio & photo in confidences: andy@therighttimeconsultants.com, 212-627-0121.
View our mission and testimonials at www.therighttimeconsultants.com.
Warm, witty, pretty, stately, Ivy-educated physician, 70, looking for that special man for a long-term relationship or more. Let's forge a romantic future together. NY, CT preferred. Drgail100@aol.com
IRS Tax Problem Resolution. Stop collection now. Wage/Bank Levy. Solutions: Installment Payment. Offer in Compromise. Non-filed taxes. Audits. Bruce Kowal, CPA/MBA Columbia. Call anytime 617-694-0236. www. KowalTaxClinic.com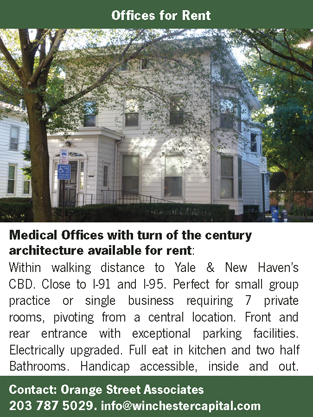 Artist's studio/loft apartment (1,400 sq. ft), for rent May 1-October 31, fully furnished SoHo/NoHo NYC, $4600/month. Yale BFA55. sahmetovic@halstead.com 917-523-7987
Airy, elegant, and private modernist house minutes from Yale, available for graduation and alumni weekends. Mature garden, outdoor fireplace, waterfalls, terraces, views of LI Sound. Sleeps 8-10. Information and photos: millrockhouse@gmail.com
Camden, Maine: Beautiful 6-bedroom, 4-bath 1850 home, in town, near ocean, for weekly rental Summer 2017. www.vrbo.com/841244.
Martha's Vineyard: Flanders Up-Island Real Estate. Specializing in biweekly and monthly summer rentals. Wide range available. Enjoy peace and beauty. Call 508-645-2632. www.flandersrealestate.net.
Nantucket: Cliff area 2nd-floor cottage Large deck, 1BR, LVRM, bath. Sleeps 3-4. W/D, off-street parking. Two-week minimum, July. $1400/week+ security deposit. No pets, no smoking. 646-942-8602. CLRBOS@VERIZON.NET
Martha's Vineyard: Waterfront cottage. $3,300 weekly, June-September. voleu@hotmail.com
New Canaan, CT: 6BR/6Bth house in treelined town, 1hr from NYC train, 40min from Yale. Avail 16JUN-AUG. $11K/month, neg. Efficiency apt also for rent, $1000/mo long-term. Lauverh@yahoo.com
NARRAGANSETT, RI: Jerusalem Beach House. Steps to ocean. Spectacular views from rooftop deck. $2000/week in July and For Sale By Owner.$699,000. 212-749-1268.
MARTHA'S VINEYARD: STUNNING CHILMARK HOME, Huge Ocean View, Private Beach and Tennis, one or two weeks, four bedrooms.
904-321-2366. randbfarrow@earthlink.net.
Essex, MA: Unique waterfront home with indoor squash court, tennis court, kayaks, & more. Great for family reunions, wedding accommodations, corporate retreats or squash clinics. Sleeps 14. info@atlanticvacationhomes.com or 855-581-2879.