Yale Alumni Classifieds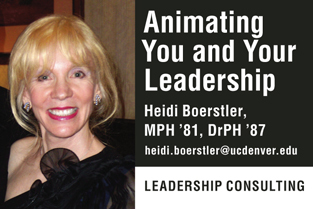 LAW OFFICE OF JASON D. JONES, P.C.
Providing experienced and diligent counsel for your New York based estate planning and probate matters. Free phone consultation and flat reasonable fees are included. Jason D. Jones, Esq. (SY '95). Ph: 646-220-2636. www.jdjlaw.com.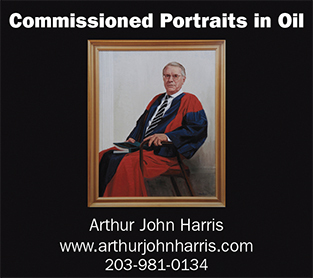 Yale BFA, painter, between galleries. View by appointment. Chelsea, NYC. frivera0828.com.
Are you ready to share your knowledge, passions or wisdom? Publisher Gail Woodard (SOM '79) has assisted select Yale alumni to publish their books. Could you be next? Call 520-329-2729. www.DudleyCourtPress.com.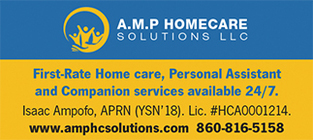 San Miguel de Allende- Stylish, 3 bedroom home in historic Centro. Sleeps 6+. 917-678-1456.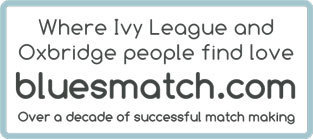 Beautiful, brilliant, accomplished Connecticut woman (38) seeks awesome man. Tennis anyone? aubris@gmail.com.
Beautiful, elegant, worldly, professional woman residing in Palm Beach with Canadian roots seeks erudite gentleman, 65-77yrs for conversation, flirtation and a potential long term relationship. reply with photo to needleinahaystack.main@gmail.com.
COMPLIMENTARY MEMBERSHIP OFFER! NYC MATCHMAKER looking for eligible bachelors for our exceptional female clients. fay@meaningfulconnections.com. Call 212-877-5151. Or text 917-692-3945.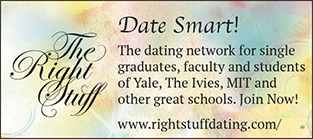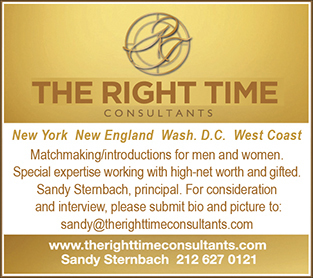 California Criminal & Injury Lawyers
Medical & Non Medical Cosmetic Procedures
Estate Home For Sale in historic hamlet of Essex, NY. Architectural Digest quality restoration of early 1800's stone Georgian with sweeping views of Lake Champlain, Green Mountains. 90 mins from Montreal, 45 mins from Burlington and Lake Placid. Four floors, 3 bedrooms, Living and Dining Drawing rooms, chef's kitchen, 3 1/2 baths, rolling lawn, paneling, molding, all new electric, heating system, high ceilings, new roof, wool carpeting, marble floors, finished attic studio. $995,000; seller financing available. 617-877-4881. smastrovich@verizon.net.
NYC APARTMENTS. Buying, selling or renting. Licensed R.E. agent: Yale alum John Davison 212-706-0740. john@johndavison.net.
TUSCANY: Classic, 3-floor stone house with finished, stone outbuilding. 2 bedroom, 2 ½ baths with multiple garden/patio areas, exposed wood beams, fireplace, fully remodeled kitchen, DSL, and satellite TV. 3/4 acre with grape arbor, fruit trees, and terraced backyard. Contact: ilmolinellotuscany@gmail.com Serious inquiries only. €158,000. www.aptadomus.com/en/node/368.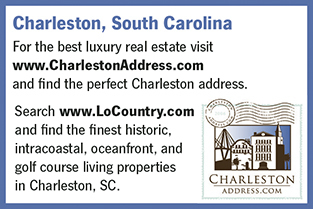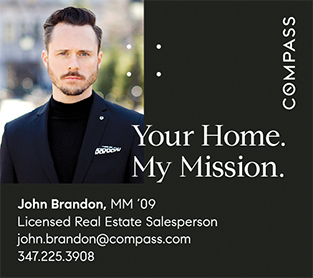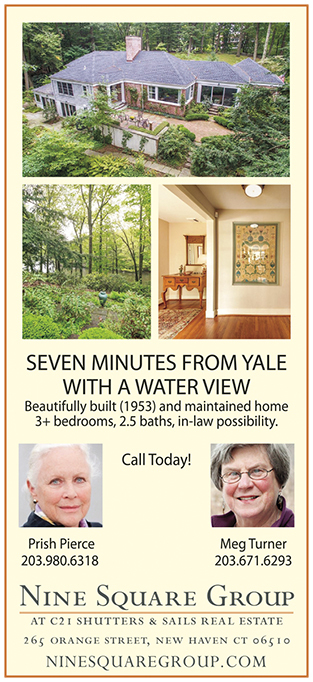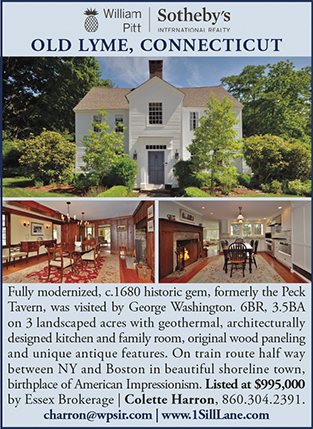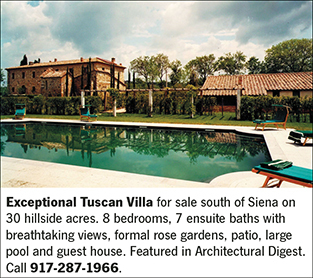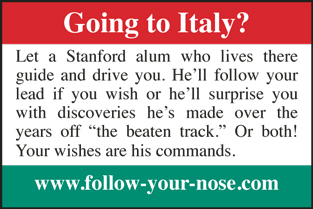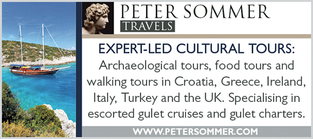 VIKING TRAIL EXPERIENCE. Fjords, whales, UNESCO World Heritage sites, abundant wildlife, dramatic scenic vistas and local culture. Newfoundland and Labrador. Award-winning local hosts. 1-888-615-8279 www.wildlands.com.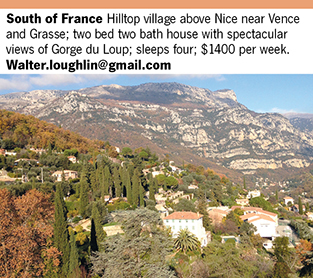 France, 16th-Century Chateau in southwest France. Luxuriously appointed. Fairy-tale towers, baronial hall. Breathtaking pool house with infinity pool. Sleeps 16. knock@chateau-x.fr (Yale '92).
France, Burgundy, Côte d'Or, Wine Country: Classic French village house adjacent to
historic château. French countryside, 30
minutes from Beaune and Burgundy's best
vineyards. Three bedrooms, large salon, fully equipped modern kitchen, 2 baths, washer,
dryer, Wi-Fi, satellite HDTV, stereo, DVD. Sleeps 6. Private garden. Perfect for hiking, biking in
countryside. 4 bicycles provided. US $1,500/week. www.franceburgundycottage.com.
Available April to November. Contact:
W. Kenneth Thompson, wktbristol@gmail.com,
802-453-7855.
France, Paris-Marais: Exquisite, sunny one-bedroom apartment behind Place des Vosges, king-size bed, living room, dining room with six chairs, full kitchen, washer, dryer, weekly maid service. Wi-Fi. $1,350 weekly. max@gwu.edu.
France, Paris, 7th Arrondissement: Fifth floor, quiet studio. Sleeps 3. Balcony, view Eiffel Tower. www.parisgrenelle.com. 207-752-0285.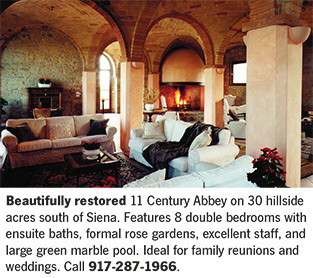 France, Paris, Ile St. Louis: Elegant, spacious top-floor skylighted apartment, gorgeous view overlooking Seine, 2 bedrooms sleep 4, 2 baths, elevator, well-appointed, full kitchen, Wi-Fi 678-232-8444, triff@mindspring.com.
France, Provence: Delightful 5-bedroom stone farmhouse. Pool, Wi-Fi. Facing Roman theater. 860-672-6608. www.frenchfarmhouse.com.
Glorious Southern France (Alumni rates—please call to book early) Beautiful, spacious home in lively, enchanting village—voted France's "most beautiful village"— restaurants, markets, vineyards, bicycling, swimming. maisonsouthernfrance.com. 617-608-1404.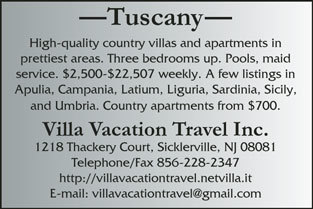 Heart of Tuscany: Montepulciano. Elegant architect designed home with garden and terrace overlooking countryside in town center: 4 bedrooms, 3 baths, grand entry, spacious living room w/fireplace, kitchen & separate kitchenette, washer/dryer, Jacuzzi, Wi-Fi. Easy daytrips to Florence, Siena, Arezzo, vineyards, thermal baths. Great place to entertain. $2950/week. Min. 2 week rental. skim@koetterkim.com.
Italy, Tuscany: 5 bedroom, 5 bathroom beautiful villa. Spectacular views, gorgeous pool & gardens. 5 star reviews. www.LuxuryVillaTuscany.com.
London: Swap my two bedroom mews house
in South Kensington for your two bedroom apartment on UWS/UES Manhattan during Nov 2019-Jan 2020 (flexible). dan.badger@gmail.com. YC '68.
PARIS - MARAIS. Renovated 17th-century, tri-level, top-floor, courtyard apartment. Central, quiet, exposed beams, hardwood floors, fireplace, fully equipped. Non-smokers. Week/Month. 206-723-6538; www.acrossthewater.net.
Paris, France. Neighborhood: Louvre Museum, Opera, Ritz Hotel. Furnished studio. Sleeps 3. Wi-Fi. Season & length stay fixes terms.
apower7@icloud.com. 831-521-7155.
Paris: Luxurious, sun-filled, large belle époque apartment just off Place St. Michel. Lovely details, fully equipped, cleaning 2x/week. Sleeps 5. Minimum week, $4,200. Call 617-491-0006. dantonapartment@gmail.com.