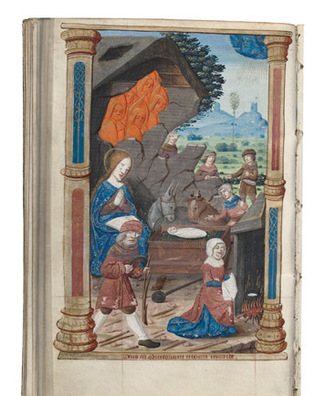 Beinecke Library
An unusual Nativity scene from an early sixteenth-century French manuscript (MS411) in the Beinecke. View full image
Hundreds of versions of the Book of Hours, the most common type of medieval illuminated manuscript, survive today. While on a fellowship at the Beinecke Library this summer, I explored over a dozen of these domestic prayer books, from palm-sized, dog-eared codexes to large, sumptuous volumes still as pristine as the day they were commissioned.
Among the most ornate Books of Hours are many commissioned by wealthy, literate women for their private use. Interestingly, their illuminations frequently depict female reading. In a richly decorated French Book of Hours from the early sixteenth century, one of the first illuminations shows the classic Annunciation scene: Mary kneels at her prie-dieu with an open book as Gabriel greets her with the news of the Incarnation. But throughout the book, Mary's penchant for reading crops up in unexpected places. Early in Christ's life an angel tells Joseph to take his family to Israel; although Joseph is the central character of this scene, he is in the background, literally overshadowed by Mary, reading at her kneeler.
Perhaps most surprising is the illumination of the Adoration of the Shepherds pictured here. Much of it is predictable: a few shepherds peer down on the baby Jesus in the manger; Joseph collects wood for the fire to warm the infant; the midwife mends the swaddling clothes; and Mary . . . Mary reads? She sits to the side, hands together in prayer, not gazing at the Son of God but reading her book. Even the animals look more attentive to the newborn Christ.
The artist's choice to paint Mary distracted at the Nativity by a book is extremely unusual. It might, I began to think, be connected to another image in the manuscript. Artists frequently included portraits of their patrons within illumination scenes; and in this manuscript there is a very plausible rendering of a female patron. She is, of course, holding a book.
In the Virgin's open books, was the illuminator reflecting his patron's love of reading? Was she bookishly devout? Perhaps Mary offers here a new model of literate motherhood, in which women don't have to sacrifice their devotion to reading when baby comes along. Or perhaps Mary's constant reading offers solace to a woman not yet, or not ever, a mother. Librarians might squirm at the thought—but if only that reader had scribbled in her book, had marked its margins with a name, a note, a prayer, we might have seen more than a glimpse of her in the mirror of Mary.