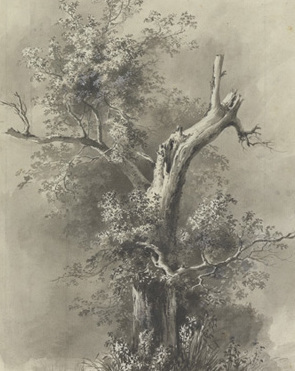 Collection of Charles Ryskamp '56PhD
In the Romantic period—from the late eighteenth to the mid-nineteenth century—the tree nearly supplanted the human figure as the best test of an artist's mettle, says Matthew Hargraves, a curator at the Center for British Art. Jean-Jacques de Boissieu's ten-inch-high Tree Study, seen here, is a fine example of a Romantic tree portrait, with its iconography of decay and regeneration. It is one of many such images in a large exhibition of Romantic-era drawings on display at the center.
"We have trees of almost every nationality in northern Europe," Hargraves jokes.
"Varieties of Romantic Experience" draws on the voluminous personal collection of Charles Ryskamp '56PhD, the director emeritus of both the Pierpont Morgan Library and the Frick Collection. (It is on display until April 25.) The exhibit speaks to the dialogue between British and continental artists during the period, and, taken as a whole, the images—boats, architectural ruins, imaginative drawings—stand as a survey of themes of Romantic art.