Thursday evenings, in the basement of the newly renovated Jonathan Edwards College, a few Yale undergraduates go back in time: back before computers and word processing and graphic design software. Back before motorized printing presses. Back to a time when printing meant something much more complicated than pushing a button, and when "out of sorts" had a literal meaning: no more vowels could be found.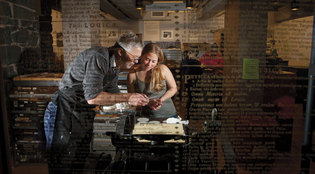 Julie Brown
JE is one of five residential colleges with pressrooms, where students learn how to set type, roll ink, and create documents using antique printing presses. The results, hung around the room, are a wide variety of beautiful and surprising student creations—diplomas, illustrated posters for plays, and small signs admonishing people to turn out the lights when they leave. The pressroom's glass windows feature etched reproductions of historical printed materials; one is visible here in the near foreground.
"It's really special, because type is a physical, tactile form, and I think there is something about that that engages people really differently from working on the computer," says Richard Rose (at left), a master printer who teaches the Thursday workshops and an occasional undergraduate seminar in printing. On an evening this fall, he helped Chelsea Andreozzi '12 begin her first project: a set of paper coasters bearing the quote "All that is gold does not glitter, not all those who wander are lost," from J. R. R. Tolkien's Lord of the Rings.