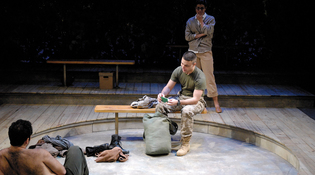 Evan Sung
Page 73 focuses on unpublished playwrights, like Quiara Alegria Hudes '99, who developed Elliot, A Soldier's Fugue during a playwriting fellowship. The play, shown here in a a 2006 production, was a finalist for the 2007 Pulitzer Prize for Drama. View full image
For new playwrights, the chasm between "ready to work" and "actually working" can feel impossibly wide. That's why, in 1997, Asher Richelli '97 and Liz Jones '96 helped cofound Page 73, an Off-Broadway theater company that focuses solely on unpublished writers. Almost 14 years later, they've become a major force, giving new scribes an unusually comprehensive level of support.
Take Eliza Clark '07. Page 73 is currently co-producing her dark comedy Edgewise, about a crisis in a fast-food restaurant, but that's just part of their support. She also received the troupe's 2010 playwriting fellowship, a one-year award that provides up to $15,000 for developing new scripts. Plus, Clark was invited to join the company's annual summer residency, where writers workshop material in Yale facilities with actors, directors, and other pros.
Clark's summer experience underlines the company's approach. Ostensibly, she was there to work on her fellowship play—a magical-realist drama called Dead Children—but she had hit a wall. When she told Richelli and Jones, they said she could can the show and start on something else. "It was kind of amazing," Clark says. "They weren't asking me to write a particular play. They were just supporting whatever I wrote."
Other theaters provide financial support for playwrights. (Among them is the Yale Repertory Theatre, which commissions plays for an average of $20,000.) But most would balk at torching a script they were paying to support, whereas for Richelli and Jones, that's part of putting writers first.
That spirit arises from the founders' own time at Yale, when they were undergraduates taking occasional classes at the drama school. "We knew all these great writers who just didn't have professional opportunities," Richelli recalls. Through grants, private donations, and ticket sales, the pair has been able to put together just over $250,000 a year to fund their programs. They called themselves Page 73 because that page was missing from a script they were considering, and it a held a major plot point. "It's that idea of, 'Every page of every script could have something great," Jones says.
Page 73's nurturing style can affect a writer's entire career. As the company's 2005 playwriting fellow, Quiara Alegría Hudes '99 developed her military drama, Elliot, A Soldier's Fugue. The theater produced the show in 2006, and in 2007 it was nominated for a Pulitzer Prize.
Throughout that process, Hudes was surprised. "I thought they would tell me what they do and ask me to fall in line, but they didn't," she says. She even helped choose the space where her show would be performed, a rare privilege for any playwright, let alone a newbie. "Now when I'm working in others' theaters, I have the confidence to say, 'Wait, this is what I need. Can we meet in the middle?'" Hudes says. "I've found that theaters really respond to that, but that writers usually don't know they can do it."
Granted, there's a fine line between giving writers freedom and letting them flounder, but the producers say they're getting better at knowing when to step back and when to step in. For instance, after telling Clark she could shelve Dead Children,they also told her they believed in the script.
"When they said they saw something in the play, it made it easier to work on it," Clark says. At the end of the Yale residency, she had it read aloud by actors. "When I heard the play in their mouths, I thought, 'Oh, maybe there's something there,'" she says. "But I needed to be able to throw it out before I could really see that."