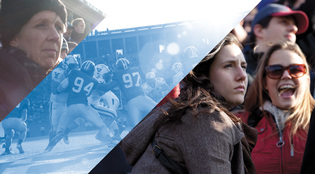 Mark Ostow
Players and spectators at the 2010 Yale-Harvard football game. View full image
Editor's note: Every year, the Yale Alumni Magazine invites an alum to write about his or her personal experience of The Game—whether as sports event, quasi-reunion, anthropological study, or something else altogether. Past writers include novelist Tom Perrotta '83 and former New Yorker editor Charles McGrath '68.
The raccoon coat is dead, along with its distaff cousins, the mink and the sable. Despite the blustery late-fall New England weather, I spy not a single full-length fur in the environs of Harvard Stadium during the 127th meeting of Harvard and Yale on the gridiron. Perhaps Yale and Harvard women have decided, en masse, that fur is murder … on the figure. The younger female spectators favor more revealing silhouettes. Cinched waists, peplums, and other form-fitting shapes abound. Dark denims as tight as the footballers' Lycra leggings wrap many a toned and slender thigh, terminating in a forest of knee-high boots, some glossy, some suede, some fringed, some belted, some heeled. Most ladies seem to have gotten the memo explaining that hair should be glossy and long, highlights expensive and understated, ponytails optional. Impossibly tall and fit, the booted equestrienne regiment lopes confidently about the grounds, chatting on smartphones and canoodling with lettermen.
Just before kickoff, the opposing marching bands flood the field for a battle of fight songs, played simultaneously at a full-throated fortissimo. With a raucous "Bulldog, Bulldog," the sons of Eli out-bark the lyrical strains of "Ten Thousand Men of Harvard." The latter want victory, and they'll get it, too: Harvard, 28; Yale, 21. What the daughters of Eli and the five thousand women of Harvard want is left unsung. What's the score? Here in the 41st year of coeducation at Yale, the female students are taller, fitter, stronger, and doubtless smarter than they were in my day. But judging from the looks of things, The Game is still a booty call.
I first attended The Game nearly three decades ago, in 1981. It was morning in America. Harvard was the opponent: of that I'm certain. Much else about the match I cannot tell you. For this Yale freshman, The Game was all about The Boy. He was my first grown-up love, a sophomore who rowed lightweight crew—a sport I first heard of when I arrived in New Haven, fresh from a second-rate public high school in the wilds of New Jersey. A blond-haired, blue-eyed, honey-voiced Southern gentleman, he took me to dinner, and he paid. He opened doors. He taught me how to dance and how to study. He thought more highly of me than I did of myself: a gift beyond measure. He was my own Dink Stover, hero of the 1912 novelStover at Yale. Heading to The Game on his arm, along with his crew buddies and his Yale-alumni brothers, I felt every inch Dink Stover's girlfriend—whoever she would have been, in the all-male Yale of the early twentieth century. Though it now strikes me as improbable, I remember tricking myself out for the occasion in grey pumps, seamed white tights, and a pink angora dress, drop-waisted, with mutton sleeves and a crocheted collar. Picture a flapper crossed with a rabbit in kitten heels. (I recently e-mailed The Boy, to ask about it. "Yale won 28–0," he recalled. And what of the pink angora dress? "I don't remember clothes, ever," he demurred.)
Angora or no, we tailgated outside the Bowl in bone-chilling cold, and I felt I had arrived at the pinnacle of Yale womanhood. It did not occur to me that undergraduate womanhood was itself then still quite new to Yale. Nor did I much notice that exactly none of my undergraduate courses was in whole or even in large part about women, past or present, or that there were precious few female professors. I majored in history. Not one of my history courses was taught by a woman. Even female teaching assistants were a rarity, singular enough to strike me as strange and faintly pitiable. I would learn just how pitiable when I joined their ranks a few years later.
I attended The Game again as a sophomore. Same Boy, different city. (Yale lost, he reminds me. Neither of us recalls what I wore.) That November, I also voted for the first time, inking an absentee ballot for Millicent Fenwick, who lost her bid to become New Jersey's junior senator. I have not voted for a Republican since—nor for many winners, or many women, who stand for national office as rarely as pink angora dresses make it to football games.
I didn't make it to The Game again, not until now. By the time I hit my junior year, there were other boys, lesser boys. With them came other sports in which to counterfeit an interest. Inspired by Barry Levinson's Diner, one boy assigned me teams to follow: the Orioles, the 76ers, the Redskins. I memorized the Redskins' fight song, of which I could still sing a few bars if asked. Braves on the warpath—hail victory!
My own fight song was longer in coming. With few female role models, I struggled to figure out what I would do with my life. Investment banking seemed an easy bet; New York's white-shoe firms hired nearly a quarter of my graduating class. The winter of my senior year, aboard MetroNorth on the way back from an interview with Morgan Stanley, I fell into conversation with a kindly older man sporting half-moon glasses. How did I like Yale? he asked. Well enough, I said. But how was the college as a place for women to learn? Had coeducation worked out? Did I feel the equal of men on campus? His questions defied the sort of easy answer that chit-chat with a stranger on a train seemed to call for. Yale's doors weren't locked to me, but I didn't feel like I possessed the key, either. My college years hadn't been all that bright. Yes, mostly, sort of, I guess, I told my seatmate, not daring to say what I felt: that if these last four years indeed proved to be the shortest and gladdest of my life, I was in deep, deep trouble. As he rose to leave the train in Greenwich, he shook my hand, apologized for his unseemly curiosity, and introduced himself. "My name is Kingman Brewster," he said, alighting into the night. "Good luck, young lady."