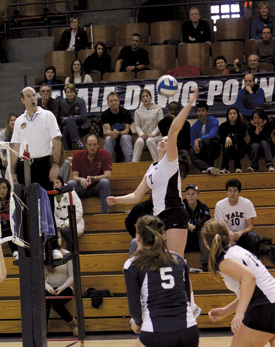 Sam Rubin
Bridget Hearst '12 reaches for the ball in the volleyball team's playoff against Penn. View full image
Volleyball
Following the graduation of the two best players she has coached at Yale, Erin Appleman was bracing for a rebuilding year when her volleyball team took the court this fall, and for six weekends the young squad played according to script. Consecutive losses at Penn and Princeton October 8 and 9 dropped Yale to 2–2 in the Ivy League and 8–7 overall. Then, suddenly, the freshmen and sophomores grew up. "About a month in, they just kind of looked around at each other and said, 'This is not what Yale volleyball's about. Let's turn it around,'" Appleman says. "And we did." Yale won its final ten games to claim a share of the Ivy League crown and force a playoff with Penn for a spot in the NCAA tournament. Before a sparse home crowd the day after The Game, Yale fell to Penn in five sets, but expectations are high heading into 2011. Yale graduates just one senior and returns Kendall Polan '14, the 2010 Ivy League Rookie of the Year.
Cross Country
Jeff Perrella '11 came to Yale two years ago from cross country power William & Mary, as a former prized high school recruit with a lot to prove. After battling injuries for much of his career at both schools, this season Perrella led Yale to a victory over Harvard in September, and he was the lone Bulldog in the top 25 (ninth place) at the Ivy Heptagonals in October; he entered NCAA Regionals in November eyeing a berth at the NCAA championship. He got out to a quick start and ran among the leaders for much of the 10K race, but with less than a mile to go, Perrella was fading fast. Yale coach Daniel Ireland, keeping track of which runners were in qualifying position, barked encouragement to his top pupil. "Right now, this guy's going to go to Nationals and you're not," Perrella remembers Ireland saying. Perrella closed, finishing in eighth place—good enough to become the first Yale runner in six years to run in the national race.
Crew
It was a banner fall for men's and women's crew, although much of the Yale rowing success took place outside of varsity meets. Four alumni competed in November at the World Rowing Championships in New Zealand, with Jamie Redman '08 and Taylor Ritzel '10 winning gold as members of the powerhouse U.S. women's eight. The win was the fifth straight major championship for the U.S. in the event, and it's no surprise that Yale, whose own eight-woman boat has won three of the last four national titles, has become something of a pipeline. Also, Ashley Brzozowicz '04 helped the Canadian eight to a silver medal in the race, while Charlie Cole '07 finished sixth in his debut with the U.S. men's eight.
Golf
It might seem strange that, before starting her Yale career this fall, Seo Hee Moon '14 was anxious about the transition to college golf—she would still be swinging the same clubs and hitting the same balls, and the courses are comparable to what she had known as an elite junior player. But Moon, born in South Korea and raised in Washington state, faced a more daunting adjustment: playing without her father, Chang, who put a club in her hands when she was three and has coached her ever since. "Being on my own for the first time—I thought that would make it more difficult for me," Moon says. "But after I came here, I met up with the team and I met with the coach and I felt really at home here." It showed. Moon won four of five tournaments this fall, highlighted by a course-record 66—including a hole-in-one—in the final round of the Harvard Invitational, to lead Yale to a two-stroke win over the second-place Crimson.