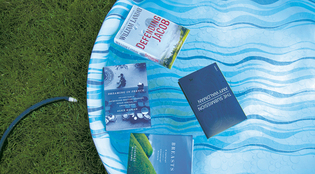 Defending Jacob
William Landay '85
Delacorte Press, $26
Reviewed by Alex Beam '75
It's become fashionable to call William Landay '85 "the new Scott Turow." Both men are former prosecutors (Turow has Chicago, Landay has Boston), and heaven knows both men can write. But the author of Defending Jacob is really just the new William Landay. After writing two well-regarded crime thrillers, Landay has broken through to a new level with a satisfying whodunit that has found a mass audience.
In tony Newton, Massachusetts, a 14-year-old boy is murdered. Assistant district attorney Andy Barber assigns himself the investigation even though his son, Jacob, knew the victim. The case takes a precipitous turn when the police find Jacob's fingerprint on the body. Barber is put on paid leave, which gives him and his wife, Laurie, time to ponder: could our son be guilty of murder? "Even smart teenagers do stupid things" is one of the Barbers' few admissions that their precious son might have stumbled on life's path. This novel has two endings, each of which would have satisfied a less ambitious writer. Together, they function like a delicious second helping of a meal you didn't have to pay for.
Alex Beam '75 is a columnist for the Boston Globe.
Dreaming in French: The Paris Years of Jacqueline Bouvier Kennedy, Susan Sontag, and Angela Davis
Alice Kaplan '81PhD
University of Chicago Press, $26
Reviewed by Heather Hewett '91
Did Jacqueline Kennedy, Susan Sontag, and Angela Davis have anything in common besides fame? Yes, says Alice Kaplan: each spent a formative year in Paris. Kaplan masterfully reconstructs their experiences in Dreaming in French, showing how their time in Paris changed them. The year of "alchemy" was different for each. A few years after World War II, college junior Jacqueline Bouvier took classes in art history and literature and socialized with the French aristocracy; eight years later, Susan Sontag left academia for a bohemian existence in the Latin Quarter; and in 1963, college junior Angela Davis observed the lives of recent Algerian immigrants—and kept track of the news from home about a lethal church bombing in Birmingham, Alabama.
Kaplan combines a scholarly understanding of literary and intellectual history with an empathetic imagination and extensive research. The resulting portraits provide fresh insight into each woman, as well as an understanding of the "deep and lasting confidence," the "spirit of adventure," and the "freedom from home constraints" each nurtured while in Paris.
Heather Hewett '91 is an associate professor of English and women's studies at the State University of New York–New Paltz.
The Submission
Amy Waldman '91
Picador, $15 paperback
Reviewed by Marc Wortman
In the wake of a 9/11-like terrorist attack, a jury selects an entry in an anonymous design competition for a memorial on the site where thousands died. When it turns out the winning submission is the work of a Muslim American named Mohammad Khan, agitators, families of the victims, and the media suspect his submission—a sunken garden—is an attempt to sneak an Islamic "martyr's paradise" onto hallowed ground. Khan's chief defender is design jury member Claire Burwell, who was widowed in the attack, but Khan's refusal to explain his garden's intent shakes her convictions and serves as ammunition for self-serving politicians, professional victims, and talk radio. Words fly; voices rise; and more blood spills.
The stridency of those with conviction, and the venality of those without, make it difficult to warm to these characters. But Waldman, a former New York Times South Asia bureau co-chief, brings a reporter's precision and storytelling energy to her depiction of a divided, terror-stricken, and generally comfortless world.
Marc Wortman is the author of The Millionaires' Unit and The Bonfire.
Breasts: A Natural—and Unnatural—History
Florence Williams '89
W. W. Norton, $25.95
Reviewed by Bruce Fellman
"The primary biological function of breasts is to make males stupid," wrote humorist Dave Barry. Well, and to preserve the human species. But humans, in return, aren't always good to breasts. In this fascinating but often chilling "environmental history of a body part," science journalist Williams visits breast-watching biologists, breast-enhancing plastic surgeons, and breast-testing toxicologists to flesh out a story about "how our breasts went from being honed by the environment to being harmed by it."
Anyone daydreaming about a larger cup size may have second thoughts after reading the chapter called "Fill Her Up," in which Williams describes the gruesome history of "boob jobs." The practice (much improved over time) was "the country's most popular cosmetic surgery" in 2009; that year, 289,000 women had breast implants. Readers should also be horrified to learn about the toxins mothers deliver in breast milk: phthalates and BPA, both found in plastics, disrupt the action of the female hormone estrogen and may contribute to the increase in early breast development in girls and to breast cancer.
Breasts "need a safer world more attuned to their vulnerabilities," says Williams. "And they need good listeners, not just good oglers."
Bruce Fellman is a contributing writer for the Yale Alumni Magazine.