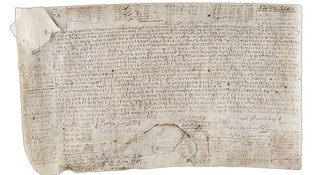 Beinecke Rare Book and Manuscript Library
Some bonds run deeper than others. And some just last longer. Take Yale's bond from a Dutch water authority: it was originally issued in 1648, it is inscribed on goatskin, and recently, it added €136.20—about $153—to Yale's coffers.
The Beinecke Rare Book and Manuscript Library acquired the bond in 2003, strictly as an artifact. But after Yale realized that the document continues to collect interest at an annual rate of 5 percent, Beinecke curator Timothy Young traveled to the Netherlands in September to receive 12 years' worth of returns.
K. Geert Rouwenhorst, School of Management professor and deputy director of the International Center for Finance, says the bond was acquired as part of "a collection that traces the history of capital market development and financial innovation." According to its company of origin, it is probably one of five still in existence.