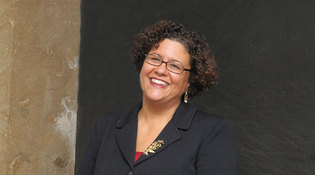 Michael Marsland
Elizabeth Alexander '84, who was named the inaugural Frederick Iseman Professor of Poetry in January, is leaving for Columbia next year. View full image
A bestselling memoirist, the poet for Barack Obama's first inauguration, and Yale's first endowed professor of poetry, Elizabeth Alexander '84 is one of Yale's highest-profile professors. But not for long: Alexander is leaving the Yale faculty for Columbia next fall.
Her departure, along with that of anthropologist Vanessa Agard-Jones '00, also for Columbia, was reported in the Yale Daily News as a sign of "systemic problems" in Yale's efforts to make its faculty more diverse. (Alexander and Agard-Jones are both African American.) Columbia has invested $63 million in its faculty diversity initiative to finance "recruitment, support, and related programs" since 2012.
"We have not made nearly enough progress on diversifying the faculty, and my colleagues in the higher administration know that I have long believed we need to have powerful commitments from on high, both in continued, stated vision and also with extensive resource allocation," Alexander told the News. "Yale lags behind its peers where we should be leaders, and [faculty diversity] goals, in my opinion, should be a priority, as they are elsewhere, including Columbia." (Alexander did not respond to our requests for an interview.)
A panel of academics from outside Yale came to similar conclusions last year after having been invited to campus for a "diversity summit" including interviews and conversations with faculty and staff. "Despite Yale's success in enhancing the diversity of its student body, it has been less successful in enriching the diversity of its faculty and upper-level administration," the visiting panel wrote. "The perception that the university lags behind some of its more prominent peers in achieving success in this area is a source of frustration and, for some, a perceived deterrent to recruiting some of the most outstanding scholars and researchers."
As of 2014–15, Yale had 675 "ladder faculty"—tenured professors and full-time junior faculty aspiring to tenure—in the Faculty of Arts and Sciences (FAS). Of those, 109—or 16.1 percent—were members of racial and/or ethnic minority groups. Forty-nine—or 7.3 percent—were members of the groups most commonly considered underrepresented in academia (in Yale's terminology: Black, Native American, Hispanic, Native Hawaiian, or Pacific Islander). And 195 (28.7 percent) were women.
Comparing Yale with its peers is not easy, because different institutions report their numbers differently. Harvard has a higher proportion of all minorities (19 percent) on its FAS, but a similar proportion (7.58 percent) of underrepresented minorities. Stanford reports that 27 percent of all its faculty (including non-ladder instructors) are minorities, and 7.18 percent are underrepresented minorities. Columbia says that 20 percent of its FAS are minorities, but it does not indicate numbers for specific racial and ethnic groups.
The Diversity Summit panelists recommended that Yale appoint a "senior diversity professional" to "establish and lead a university-wide diversity strategic plan." Last winter, the university did just that, appointing anthropology department chair Richard Bribiescas as its first deputy provost for faculty development and diversity. In an interview with the Yale Alumni Magazine (see page 26), President Peter Salovey '86PhD said that Yale is about to announce "our next phase of recruitment and retention strategy as well as new approaches to building a diverse faculty from within the university."