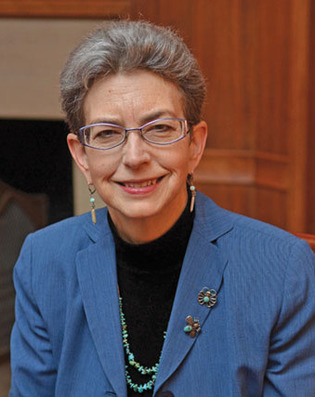 Michael Marsland
Appointed
Mary Miller '81PhD (left), Sterling Professor of the History of Art, has been named senior director of Yale's Institute for the Preservation of Cultural Heritage. Miller, who was dean of Yale College from 2008 to 2014, is an authority on Mesoamerican art. The institute, on Yale's West Campus, studies and implements the technical and cultural aspects of preserving art, artifacts, and written material. Miller succeeds founding director Stefan Simon.
Honored
Poet Louise Glück, the Rozenkranz Writer in Residence at Yale, was awarded the National Humanities Medal at a White House ceremony in September. Glück, the author of numerous books of poetry and a former US poet laureate, teaches poetry to Yale undergraduates. She was one of 12 winners of this year's medals.
The Graduate School awarded its Wilbur Cross Medal—given annually to alumni for distinguished achievement—to four people at a dinner in September: political scientist Arend Lijphart '63PhD of UC–San Diego; geneticist Ira Mellman '78PhD, formerly Sterling Professor of Cell Biology at Yale and now a vice president of Genentech and a professor at UC–San Francisco; chemist Arthur J. Nozik '67PhD of the National Renewable Energy Laboratory and the University of Colorado–Boulder; and anthropologist Eleanor Sterling '83, '93PhD, chief conservation scientist at the American Museum of Natural History.
Poet Claudia Rankine, the Frederick Iseman Professor of Poetry, and journalist Sarah Stillman '06, '06MA, a lecturer in the English department, were among 23 winners of this year's MacArthur Fellowships, the so-called "genius grants" awarded by the John D. and Catherine T. MacArthur Foundation. Rankine, whose 2014 book Citizen: An American Lyric won several major prizes, joined the faculty this fall. Stillman, a staff writer at the New Yorker, is teaching nonfiction writing. Alumni Ahilan Arulanantham '99JD, Kellie Jones '99PhD, Mary Reid Kelley '09MFA, and Julia Wolfe '86MusM were also among the winners.