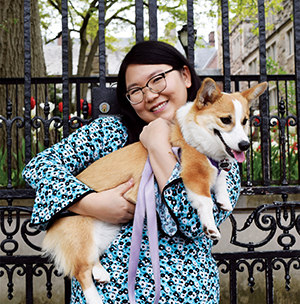 Tiana Wang / Santa Monica, CA
Sociology and English
Tell me about your interest in sociology.
I really enjoyed cultural sociology; it's at the intersection of the humanities and the social sciences—doing close readings of social events, trying to analyze the meanings surrounding them. For example, my professor and thesis adviser, Jeffrey Alexander, did some work on cultural trauma and the social meanings of the presidential election.
How might that apply to the coronavirus pandemic?
I think it's a moment of thinking about ways that the structures in society have failed us. When you grow up in the US, you take for granted that the people in power will have the safety of the citizens at heart. And then you see this conflict between [public health] and economic incentives, and the human cost of all of it.
In your English major, you did a lot of poetry, right?
Yes, I was really fortunate to meet Louise Glück [poet and Rosenkranz Writer-in-Residence at Yale] early on. She has been such a wonderful mentor, and such an amazing editor.
Do you plan to be a full-time poet?
I definitely want poetry being a major part of my life, but don't know if I can cope with the lack of structure that being a professional poet would mean. And I'm really excited to work with people on collaborations that will shift my work into different mediums. I made a film with my friend Elaine Zhang ['17] that was based off of one of my poems, "A Family Recipe That Cannot Be Followed Written Down." The film was accepted into 22 festivals [and was a semifinalist in one].