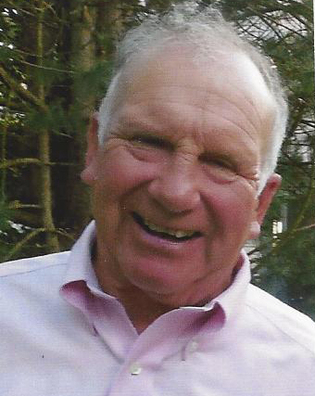 Charles Dunn McKee died peacefully of cancer at his home in Spring Island, South Carolina, on December 8. A well-respected financial manager, an avid golfer, an artist, a loyal friend, a loving husband, father, and grandfather, and a great generous spirit, he will be dearly missed.
Charlie was born June 26, 1940, in Mount Kisco, New York, the youngest son of Elliot Bates McKee and Katharine Pillsbury McKee. He is preceded in death by his parents and his two brothers, Philip W. McKee and Elliot Bates McKee Jr.
Charlie grew up in New York and in Europe, where from 1952 to 1954 he attended Le Rosey School in Switzerland. He graduated in 1958 from St. Paul's School in New Hampshire, and from Yale University in 1962. While at Yale, he met Nina Carter Truslow, and they were married in Taftville, Connecticut, on June 9, 1962.
Charlie and Nina settled in Bronxville, New York, where Charlie worked at Citibank in New York City from 1962 to 1971. They had their three children while in Bronxville. In 1971, Charlie and family moved to Brunswick, Maine, where Charlie worked for Casco Northern Bank as an officer first in Brunswick and then in Portland, Maine. In 1981, the family moved to Portland and later to Prouts Neck. In the past ten years, Charlie and Nina split their time between Scarborough, Maine, and Spring Island, South Carolina.
In 1982, Charlie became a financial advisor for Tucker Anthony, now RBC Wealth Management. During his 30-plus years at RBC, Charlie thought of his colleagues and clients as family, and he was often recognized and awarded for his commitment to and excellence in client service. Charlie was still working as a senior vice president at the time of his death. He loved his career because of the opportunity it provided for him to help others.
Throughout his life, Charlie served in many community service roles. He was past president of the Brunswick Chamber of Commerce, past president of the Brunswick Topsham Military Council, former director of the Brunswick United Way, former director of the Prouts Neck Country Club, a trustee of the Portland Museum of Art, and a member of the Rotary Club for over 40 years.
Charlie was particularly passionate about building educational opportunities for future generations. He was a former trustee of Hyde School in Bath, Maine, a member of the St. Paul's School alumni executive committee, a trustee and board member of the School for Field Studies, and an active member of the Yale Alumni Association. Charlie and Nina endowed a scholarship at Bowdoin College and the McKee Scholarship for the School for Field Studies.
In addition to his commitment to financial advising and to community service, Charlie will be remembered by friends and family for his love of golf and his wonderful camaraderie on the course. He was a member of many clubs, including, at the time of his death, Biddeford Saco Country Club (Maine), Old Tabby Links (Spring Island, South Carolina), and Prouts Neck Country Club (Maine). In 1998, Charlie was honored to become a member of the United States Senior Golf Association. He was also a member of the New England Golf Association and the Threescore and Ten Golf Association. For many years, Charlie served as chairman of the Prouts Neck Country Club greens committee, and he was on the Old Tabby Links Golf Committee.
Charlie had many other interests as well. For most of his life, he was an avid skier—a Sugarloafer since 1972. He loved nothing more than catching the first run on Tote Road or Gauge, and at the end of the day visiting with friends in The Bag or Gepetto's. Always passionate about art, Charlie began to paint a few years ago, and he could frequently be found in his studio working on his painting. He was an enthusiastic member of the art communities at Spring Island and at The Cypress in Hilton Head.
But Charlie will be most remembered for his deep loyalty and love for family and friends. He was a loving partner and a devoted father and grandfather, who delighted in spending time with his children and grandchildren and celebrating and supporting all of life's occasions. Even in the last weeks when cancer was taking its toll, Charlie's thoughts were for his family and friends. He had a wonderful smile and laugh and an incredible joie de vivre. A more optimistic person could not be found. Charlie's spirit will carry on in his family, especially in the unwavering love of his wife Nina with whom he shared more than 50 years.
In addition to his wife, Charlie is survived by his children: Nina Carter McKee and her fiancé Seth Morton of Washington, Virginia; Charles Dunn McKee Jr. and his husband Joseph Hamilton of Toronto, Canada; Heidi Auchincloss McKee and her husband James Porter of Oxford, Ohio; and his daughter-in-law Betsy Ring of Charlottesville, Virginia. He is also survived by his four grandchildren—Nina Thomas McKee, Aidan Ring McKee, Lily Yacubian McKee, and Sean McKee Porter—and by many nieces and nephews.
The family is deeply indebted to Dr. H. Lucius Laffitte of Lady's Island, South Carolina, and to Nurse Heather Kelly of the THA Hospice Group of Beaufort, South Carolina, for the loving care given to Charlie during his brief illness.
Memorial services for Charlie will be held on January 10 at Spring Island, South Carolina, and June 27 at Prouts Neck, Maine.
Donations in Charlie's memory may be made online or by mail to one of the following: St. Paul's School (325 Pleasant St., Concord, NH 03301); School for Field Studies (100 Cummings Center, Suite 534-G, Beverly, MA 01915); Yale University (P.O. Box 2038, New Haven, CT 06521).
—submitted by the family