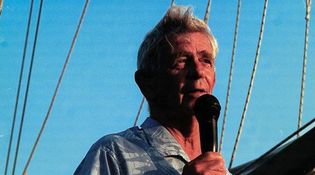 A. B. C. Whipple, a magazine editor, author, and maritime historian, died March 17 in Greenwich, Connecticut, of pneumonia. He was 94.
Mr. Whipple spent his entire career at Time, Inc., starting as an office boy and becoming a researcher, reporter, writer, and editor for Life magazine. In 1943, as Life's Pentagon correspondent, Mr. Whipple succeeded in clearing for publication the first photograph of American soldiers killed in combat. Mr. Whipple helped edit the memoirs of General Douglas MacArthur and Winston Churchill; he also worked closely with such authors as James Jones, Walter Lord, and Rachel Carson. He was editor of Life's International Editions and executive editor of Time-Life Books.
His hobby was maritime history, about which he wrote more than a dozen books on whaling, pirates, the Royal Navy, yachting, the Barbary War, and clipper ships. His book on the clipper ship era, The Challenge, won Honorable Mention as a John Lyman Book Award.
Addison Beecher Colvin Whipple (who preferred the nickname "Cal") was named after his maternal grandfather, who was treasurer of New York State in the 1920s. His parents were the late Frank and Adela Colvin Whipple. He was born in Glens Falls, New York, on July 15, 1918, and spent most of his childhood in Suffield, Connecticut. He graduated from the Loomis School in 1936 and from Yale University in 1940, and received an MA from Harvard University in 1941 before being hired by Time, Inc.
After his retirement in 1975, he wrote books about naval warfare, whaling, and clipper ships for a Time-Life Books series titled The Seafarers. He also wrote a history, Vintage Nantucket, and Critters, recounting his uneasy relationship with the raccoons, skunks, squirrels, and other fauna he encountered in Old Greenwich, Connecticut, his home for more than 50 years.
Mr. Whipple taught at the Harvard-Radcliffe Publishing Procedures Course, and was a member of the editorial board of the Harper's Dictionary of Contemporary English Usage. He served on the Historic District Commission in Greenwich, Connecticut. He was a cofounder and president of the Time-Life Alumni Society. And he was a corresponding secretary and secretary of his Yale Class of 1940.
In 1942 he married Jane Banks, an author and book indexer, who died in 1993. His second wife, Sally Schilthuis Johnson, died in 2010. He is survived by his daughter, Ann Whipple Marr of Goldens Bridge, New York; son Christopher of Manhattan; grandchildren Abigail Doft of Manhattan, Melissa Marr of South Salem, New York, and Samuel Whipple; great-grandchildren James, Lucy, Matthew, and Victoria Doft of Manhattan, five stepchildren, 12 step-grandchildren, and four step-great-grandchildren.
Gifts in his name may be made to the Loomis-Chaffee School, Windsor, CT 06095, or to anyone's favorite charity.
(Submitted by the family.)