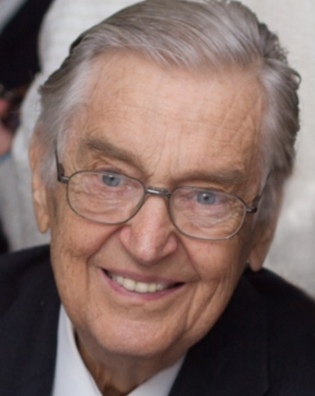 Dale Forest Helsel of Hudson, Ohio, died June 24, 2017, of heart failure and pneumonia. He was 90. Dale died peacefully, surrounded by his loving children, sons-in-law, daughter-in-law elect, grandchildren, and his very special friend, Mary Jo.
He was born on St. Patrick's Day, March 17, 1927, in the no-longer-extant coal-mining company town of Wehrum, Pennsylvania. His parents were Edward Raymond and Esther Kuchenbrod Helsel. The name Dale Forest was chosen by his mother because she wanted to name her children after elements found in nature. He was the youngest of three.
Dale was raised in ‪Akron, Ohio. His family moved there in 1929 when he was two, after the coal mine that supported Wehrum abruptly closed and the town rapidly became one of Pennsylvania's ghost towns. Between 1929 and 1965 Dale's parents owned and operated a grocery store known as Helsel's Groceries on Seiberling Street in Akron. The family lived behind and above the store, and Dale often helped out by stocking shelves, waiting on customers, and delivering groceries. He graduated from Akron's East High School in 1945 and shortly thereafter was inducted into the US Army. A veteran of World War II, Dale spent the most of his enlistment engaged in an intensive training program to become a Japanese interpreter and translator. This training was conducted under the auspices of the Army in anticipation of the need for interpreters and translators during the planned invasion of Japan, an invasion that was rendered unnecessary by the surrender of the Japanese Empire in August 1945. After the war, Dale attended Yale University and graduated with a bachelor of arts degree in philosophy and social science ‪in 1950. He went on to obtain a master's of public administration in 1953 from the University of California at Berkeley. He never forgot that public funds were what allowed him to get a first-class education that he otherwise might not have been able to afford.
Dale met his future wife, Doris Mathias (Helsel) on a blind date in February 1951, and the couple were married the following August. Theirs was a very happy and close marriage that lasted for 62-years. They had three children: David, Bruce, and Ann. Doris was in failing health towards the end of her life, and Dale was her primary caretaker for several years. She died in 2014.
A man of many talents, Dale began a highly successful career in public administration as the assistant city manager of Bedford, Ohio, in 1954. He was named borough manager of Bellefonte, Pennsylvania, in November 1956 and served in that capacity until August 1961. He then became the city manager of Painesville, Ohio, and remained in that role from August 1961 until he accepted the position of city manager of Middletown, Ohio, in late 1970. He retired from both Middletown and full-time city management in 1985, but later served as interim city manager in several Ohio cities, including Kent, Oberlin, and Newton Falls. Dale was active in the Ohio City Management Association, and held several elected offices in that organization. He was also active for many years in the National League of Cities, and was a past president of the International City Managers Association.
In the early 1990s Dale came out of retirement and, for most of that decade, worked as a public infrastructure and management consultant for various organizations. Dale served as an organization, administration, and training specialist for Louis Berger International, Inc. In that capacity, he reviewed operations and maintenance for public infrastructure and associated services. He also traveled to, and made recommendations for, governmental organizations to improve services in the Republic of Palau; Commonwealth of the Northern Marianas; Territory of Guam; four States in the Federated States of Micronesia; Republic of the Marshall Islands; American Samoa; and the US Virgin Islands. Dale was also a Local Environment Management (LEM) financial specialist for the Research Triangle Institute and the International City/County Management Association. In these capacities, he studied local government organizations in two cities in Hungary, and wrote a manual for use by mid-size Hungarian cities on organizing local governments for collection of solid waste charges. Dale also did a project on preparing municipal budgets in Indonesia for the United States Agency for International Development. Lastly, Dale served as senior associate for Bennett Isaacson Associates and conducted executive searches for positions of advisors to mayors in the former Soviet Union for the Research Triangle Institute; served as an organizational specialist for EarthTech, Inc.; and, most recently he served as an adjunct professor at Kent State University, where he taught Introduction to Public Administration. He finally retired completely when he was in his mid-80s so that he could spend more time caring for his ailing wife.
A man of broad interests, Dale played the piano and organ beautifully. Among many other interests he loved music, art, literature, theater, sailing, architecture, and poetry. Dale and Doris often traveled both for business and for pleasure, and together they spent blocks of time in numerous countries all over the world. He always said that one of his most satisfying experiences, both professionally and personally, was working closely with noted Chicago modernist architect Harry Weese, as Weese and his associates designed and oversaw the construction of the Middletown City Building and Civic Center.
Dale was also a skilled stained glass artisan, and created a number of original works as well as authentic copies of windows by Frank Lloyd Wright and lamps by Louis Comfort Tiffany. At the time of his death he was an active member of the Wedgwood United Methodist Church in Akron, where he was a member of the chime and bell choir.
In 2016 he summoned the courage to ask Mary Jo Keshock, a fellow resident of the Laurel Lake Retirement Community, out on a date. She accepted, and the two quickly fell in love. The couple shared many interests, and Dale often referred to Mary Jo as the "second love of his life," along with his late wife, Doris.
Dale was a kind, patient, thoughtful, intelligent, loving, intellectually curious, optimistic, open-minded, progressive, and witty man who will be greatly missed. He is survived by his three children: David (David Lembeck), Bruce, Yale '79 (Jennifer Singleton), and Ann Furek (John); former daughter-in-law, Ruth P. Helsel, Yale '83; grandchildren Kate Furek (Will Nevin), Megan Helsel (Steve Stuff), Claire Helsel, and Thomas Dale Helsel; and brother-in-law, Thomas Gentry Sr. He also leaves a number of dearly loved nieces and nephews, as well as several maternal cousins, including Janet Pidcoe of Stow, Ohio. He was preceded in death by his wife, Doris; his brother Ed; his sister, Fern Knight; his sisters-in-law Ruth W. Helsel, Hank Christie, and Gerry Gentry; and his brothers-in-law Bill Knight and Jack Christie.
Originally one of over 40 first cousins on his father's side, he was the last survivor of his generation on that side.
A memorial service will be announced at a later date.
—Submitted by the family.