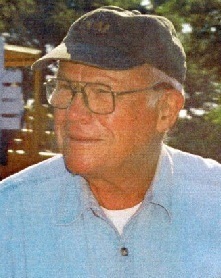 Richard A. Moll passed away on October 16, 2017, at Westgate Center in Bangor, Maine.
Richard was born on August 5, 1934, in Detroit, Michigan. His parents were Irene Kuhlman Moll of Toledo, Ohio, and Edward Harmening Moll of Defiance Ohio. The Harmenings were settlers of Defiance, Ohio.
In the late 1930s the Moll family moved to New England, where he grew up in Longmeadow, Massachusetts. He graduated from Technical High School in Springfield, attended the Taft School, and graduated from Yale University in 1957 with a degree in mechanical engineering. As boys he and his brother explored the Connecticut River and developed their love of ships and the sea.
In one magical week in 1957 Richard received his degree from Yale, was commissioned as a second lieutenant in the US Army, and married Patience Foster of Hingham, Massachusetts. He sold his sailboat to buy an engagement ring.
He served in the Army from 1957 to 1960 at Ft. Bragg, North Carolina, and was in the reserves for three years. After the Army, he and his wife returned to New England where he had a job waiting with Bethlehem Steel Shipbuilding in Quincy, Massachusetts. This began a 40-year career in shipbuilding. They lived in Scituate, Massachusetts, for 22 years, where they raised their five children.
While living in Scituate, Dick was involved in 4-H, raising sheep, goats, and various fowl with his children. He once asked his aunt if he could make a living running a zoo. There was always a variety of pets, mostly rescue dogs and cats, which has continued for 60 years.
Dick sailed many boats, including a Herreshoff 18 and, for 22 years, a 22-foot wooden catboat, which took the five children for adventures around the South Shore and Cape Cod. He was a leader of Boy Scout Troop 90 and led an Explorer Post involved in scuba diving. In 1970 he was chosen "Man of the Year" for his work with young people. He served on the Scituate Board of Selectmen for four years, being chairman in 1973.
At Bethlehem Steel, later Electric Boat, he was involved in construction of machinery plants and the nuclear compartments of the nuclear-powered Long Beach and the Bainbridge. In 1982 he transferred to Electric Boat in Groton, Connecticut, where the family lived in Old Lyme for 30 years, and where he served on the Zoning Board of Appeals for 20 years. He and his wife continued to cruise on their Pearson 35 on Long Island Sound. They also sailed in the Caribbean extensively with friends, and on their son Tim's Colin Archer ketch in New England and the Virgin Islands.
In Groton he was manager of nuclear quality control, ultimately under Admiral Rickover. He oversaw compliance for the Navy with the rigid controls required for building machinery compartments within nuclear submarines, where his grandson, Atticus, now serves.
He retired in 1999, and in 2004 he and his wife bought a second home in Hancock, Maine. An 1870 schoolhouse was on the property, and that started a new interest of restoring and preserving the school, furnishing it, learning about early rural education, and enjoying having the community visit and use the schoolhouse. The building was named to the National Historic Register in 2013. They moved permanently to Hancock in 2013, where he was a member of the Hancock Historical Society and Hancock Security Patrol.
The family fondly remembers his authentic clambakes, smoked turkey at Thanksgiving, his perfection of Grammy Moll's sour cream coffee cake, the Satuit Boat club, camping trips, multiple projects in his "shop," raising tropical fish, massive gardens, sewing canvas for the boats on his collection of antique sewing machines, creativity and ability to fix anything, love of Mystic Seaport, the Catboat Association, and wooden boats. His generosity, service, and kindness to family, friends, neighbors, and communities will remain a cherished legacy.
He leaves behind his wife, Patience, and their children and families: Timothy A. Moll and wife Nancy of Sandwich, Massachusetts; Melissa M. Hale and her husband, Scott of Hancock, Maine; Richard F. Moll and his wife, Colette, of Farmington, Connecticut; Hilary Moll and partner, Chris Shannon, of Wrentham, Massachusetts; and Patience Moll, Yale '91, of Los Angeles, California. Grandchildren are Capt. Benjamin G. Moll, Katie Ann Moll, Lt. Atticus G. Moll, Gunnar F. Moll, Satchel M. Moll, Jacob S. Hale, and Lauren L. Hale. He was predeceased by his older brother, Edward K. Moll, of Bath, Maine, and Norio Furishima, his Japanese exchange student who lived with the family for a year in 1978. He leaves his dearest friend and college roommate, Frank Niering of Devon, UK.
Services will be private.
—Submitted by the family.