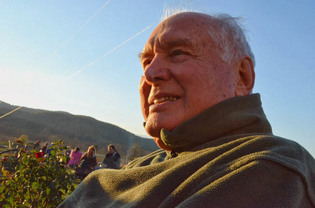 Fred Zeitvogel passed away on Tuesday, November 28, 2017, at his home in Fort Myers, Florida. His wife of 64 years, Tinka, two of his five children, and three of eight grandchildren were by his side.
Born in New York in 1931 to immigrant parents from Germany, Fred grew up in working-class Mount Vernon, New York. After graduating top of his class from the local public school, he attended Yale University on a full scholarship. Fred became an oarsman, worked part-time, and struggled in his first year at Yale. But he knuckled under and earned his undergraduate degree in chemical engineering in 1953.
As tends to happen, life took Fred in a slightly different direction than engineering, though. After he graduated, he joined Colgate-Palmolive, selling Ajax and toothpaste door-to-door before serving as an officer in the US Navy. With Tinka, whom he married the day after Christmas 1953, and two young children in tow, the family deployed to Morocco, where a third child came along. After serving four years overseas, conducting surveillance operations over the same parts of the Middle East that the US is engaged in today, Fred returned to the US and his career with Colgate.
This new chapter of his life took him and his family—now up to child number 4—around the world: to Germany, the Philippines (where a fifth and last child was born), back to Germany, and then south to Austria before moving back to the US in 1979 to join the Polyken division of Colgate's Boston-based subsidiary, Kendall. As a vice-president of Polyken, Fred oversaw the manufacture and sale of industrial linings and traveled frequently to Russia, where the US company was providing insulation for oil and gas pipelines. He was a chemical engineer, and that is part of why he came to work at Kendall: he understood the marketing and the chemistry.
The move back to the US came after more than 20 years overseas. The family ended up settling in Weston, Massachusetts, about 20 miles west of Boston, after a long house-hunt. Fred wasn't wild about the house they found—he used to comment about how he hoped Skylab would fall on it when the doomed space lab fell to earth. The garden wasn't much of a jewel either, for that matter, but Fred tended meticulously to the lawn and Tinka designed and nurtured the outdoor space over the years to the point that an elderly woman on a tour of Weston gardens commented to Fred, "You have truly recreated paradise." The house, too, was eventually remodeled because Skylab missed it.
After retiring in 1991, Fred divided his time between a growing brood of grandchildren, the expansive lawn in the now sumptuous garden, keeping track of the family finances, traveling around the US and world to visit friends and family and escape the Massachusetts winters, and volunteering with the Friends of the Weston Council on Aging (FCOA), which works to improve the quality of life for Weston's older residents. Fred ran the FCOA "like a business," Tinka recalled, setting up an endowment to ensure it was financially stable and could continue to help Westonians for years to come.
In 2016, Fred and his wife sold their home of 35 years in Weston and moved south to the Shell Point retirement community in Fort Myers. He was able to enjoy airboat rides and sunsets over the Gulf of Mexico and try out the many dining options in Fort Myers and nearby Sanibel Island with visiting friends and family until his health took a turn for the worse in early 2017. Never a smoker, Fred died peacefully of lung cancer a few days after celebrating Thanksgiving with Tinka, daughters Christine, Doreen and Karin, and four grandchildren who traveled from Colorado, Maryland, and Illinois to be with Fred for what they—and he—knew was likely the last time.
Fred is best remembered for his love of family, of a glass of red wine and a home-cooked meal, for his qualities as a business leader, for the helping hand he often extended to those in need, and for the enduring friendships he forged with people around the world. His intellect and wit were as sharp when he breathed his last breath at 1:19 p.m. on November 28 as when he became the youngest general manager of a branch of Colgate in the company's history, in the Philippines, or regaled friends with jokes and life's tales over a viertel weisswein at a Heuriger wine tavern in Vienna.
He is survived and missed by his wife, Tinka; five grown-up kids—Randy, Doreen, Karin, Christine and Jeanine; and eight also grown-up grandchildren, who called him Pop or Ba: Katie, Abby, Logan, Anthony, Luca, Lizzy, Kate, and Christian.
—Submitted by the family.