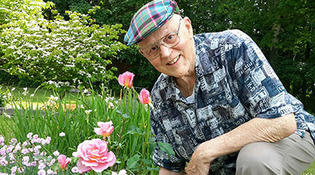 Walter Crooker Sterling Jr., 80, of Hillsborough, New Hampshire, passed away peacefully on Sunday, December 24, 2017, in Concord, New Hampshire.
Walter is survived by his loving wife, Jiansheng Liu Sterling; his daughter, Yara Athena Sterling Montminy, of Glastonbury, Connecticut; and his son, Walter Crooker Sterling III, of Wilmington, North Carolina. Walter is also survived by his grandchildren: Nicholas Ralph Montminy and Alexander Sterling Montminy, both of Glastonbury, Connecticut; and Victor James Vega of Hesperus, Colorado. Walter is predeceased by his daughter, Elisa Grace Sterling Vega, of Hesperus, Colorado.
Walter was born on April 10, 1937, in Concord, New Hampshire, to Walter Crooker Sterling Sr. and Grace Aldrich Sterling. Walter was a loving husband, father, and friend. He was referred to as "Sunny" by his childhood friends and family, a nickname derived from the word "sunshine." He enjoyed traveling off the beaten path and was the happiest when he was with people or nature.
Walter developed a love for learning at a very young age. Since 1942, Walter would eagerly await his subscription to National Geographic magazine, which he would read cover to cover. This gave him a thirst for exploration and travel. A graduate of Saint Paul's School in Concord, New Hampshire, Walter began focusing his studies on languages, cultures, and people. Subsequently, he received his bachelor of arts degree in Spanish and Latin American studies, with a minor in Spanish literature, from Yale University, in New Haven, Connecticut.
After college, Walter began his career with the United States Information Agency, as a foreign service staff officer in Brazil. He was later appointed director of the US-Brazilian Cultural Center. Upon his return to the United States, Walter was a translator and interpreter for USAID projects in South America. In Washington DC, Walter was the agency director of personnel at the Federal Power Commission. Then Walter transitioned to the Navy, with positions at the Portsmouth Naval Shipyard in Kittery, Maine, and the Naval Surface Warfare Center in Dahlgren, Virginia. Walter culminated his career as an ESOL teacher in the Hillsboro-Deering School District. Upon his retirement, he spoke over eight languages and was a certified translator in four languages.
In lieu of flowers, his family requests that memorial donations in Walter's name be made to "Hospice House," Concord Regional VNA, 30 Pillsbury Street, Concord, NH 03301; or to "Volunteer Driver Program," Community Action Program, PO Box 1016, Concord, NH 03302.
—Submitted by the family.