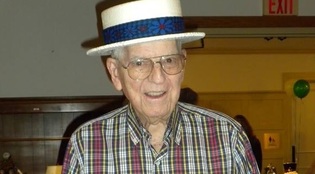 George Armstrong Webster, 90, of Newtown Square, Pennsylvania, and formerly of Glen Ridge, New Jersey, died on March 21, 2018, at his residence at Whitehorse Village.

George was born in 1927 in Brooklyn, New York. He grew up in Greenwich, Connecticut, and graduated from the Taft School in Watertown, Connecticut. He then was a student at Yale University (Calhoun College), and when WWII interrupted many students' educations, George was in the Merchant Marine for almost two years. Back at Yale, he was on the polo team and also a member of Chi Psi fraternity. He graduated from Yale in 1950 with a business degree, and then attended Harvard Business School for one year. He worked at the CIA for two years, where he met his wife of 58 years, Eleanor Selsam Hardaway. They had three children whom they raised in Dayton, Ohio, and in Glen Ridge, New Jersey. George worked at Standard Thompson (Ohio), then at ITT Defense Space Group in Nutley, New Jersey, as director of planning and controls.

George chose an early retirement at age 59-1/2—"One of the best decisions I have ever made," he had said. George and Terry traveled a lot and enjoyed summers in Nantucket. They also enjoyed watching horse racing at Monmouth, Belmont, and Aqueduct racetracks. They moved to Whitehorse Village (a CCRC) in Newtown Square in 2001, "the second-best decision I have ever made," he also said. George enjoyed singing with the Village singers and playing piano (by ear). He was on the board of directors of Bloomfield (New Jersey) Cemetery. He also ranafranced around Whitehorse Village declaring frondos when they would occur.

George was preceded in death by his wife, Eleanor Selsam "Terry" Hardaway; by his sister, Audrey Webster Stephenson (William) of Denver, Colorado; by his brother, John K. Webster (Katherine Mulligan); and by his daughter, Joan L. Webster. He leaves his son, George Steven Webster (Sandy Schwalbach) of Fishers, Indiana, and Osprey, Florida; and daughter, Anne Webster Leight of Scottsdale, Arizona. George leaves four grandchildren: Polly Webster Daniel (Tanner) of Arlington, Virginia; Audrey Suzanne Webster of Fishers, Indiana; Katherine Rose Leight (Kyle Moekler) of Chicago, Illinois; and Gregory Webster Leight (Julia Lambeth) of Scottsdale, Arizona.

A memorial service will be held in late April at Whitehorse Village. He will be buried in Bloomfield (New Jersey) Cemetery next to Terry and Joan.
—Submitted by the family.