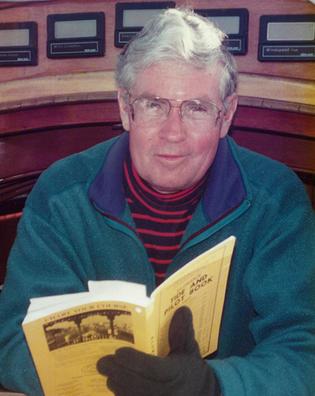 William Martin Hutchison Jr., who combined a distinguished career in management consulting with a great love of literature and the sea, died on August 11, 2018, at his home in E. Providence, Rhode Island. He was 86.
Bill, a longtime resident of New Canaan, Connecticut, graduated in Yale's class of 1953 and remained a dedicated alum. Along with the close friends he made in college, one of his most treasured possessions was his complete set of the Shakespeare Collection published by Yale University Press. The small blue volumes were well-thumbed even as he pursued his career in the more prosaic landscape of companies including ITT and American Can—while never missing his children's Little League games, figure skating performances, or theater productions. His good humor, patience, and wise counsel were a guiding light for his family and friends.
Bill was born on August 25, 1931, in Pittsburgh, Pennsylvania, where he became a devoted baseball fan and attended Shady Side Academy. He ran track and played the clarinet before heading off to Yale. He also attended graduate school at Carnegie Mellon University and taught himself to sail, a lifelong passion.
It was on a sailing blind date that he met his other lifelong passion, Joan Baker, who would become his wife of 59 years. Soon after their honeymoon, Bill lost his wedding ring in the ocean on a boating adventure off Cape Cod. (He was forgiven.)
Bill moved the family to the Chicago area to work with the consulting firm Booz Allen Hamilton. He also ran for the local school board and joined his young son in an outdoor youth program, giving himself the nickname "Fat Bear."
The bear theme returned in his life decades later when the family lived in New Canaan and Bill launched his own consulting firm. He was hired by Worlds of Wonder to work on a project involving Teddy Ruxpin, the animatronic talking bear. Bill astutely told his children that though Ruxpin's voice sounded like a small child, "it might be better if he spoke like a real bear."
During the 1970s, when the family lived in New Canaan, Bill became a member of the Noroton Yacht Club, sailing from Long Island Sound to Martha's Vineyard. He and Joan also sailed up the Maine coast on their Concordia yawl, Otter.
In the mid-1990s, Bill was diagnosed with Parkinson's disease, a monumental challenge that he faced with courage, determination, and grace. He continued to work in the community and was a wily bridge player, as the members of his weekly bridge club in town would attest. He also served for seven years as the chairman of Connecticut's Southwest Regional Planning Agency, retiring in 2002.
In 2013, he and Joan moved to E. Providence, barely 50 miles from where his wedding ring had been lost in the ocean more than a half-century before.
He is survived by his wife, Joan; their children and spouses, Susan Hutchison, Bill Hutchison III and Stephanie Hutchison, Katie Hutchison and Chris Hufstader; and three grandchildren, Brielle, Billy, and Summer. A family celebration of Bill's life was held in E. Providence on August 25, which would have been his 87th birthday.
In lieu of flowers, donations may be made to the Michael J. Fox Foundation for Parkinson's Research, P.O. Box 5014, Hagerstown, MD 21741-5014.
—Submitted by the family.