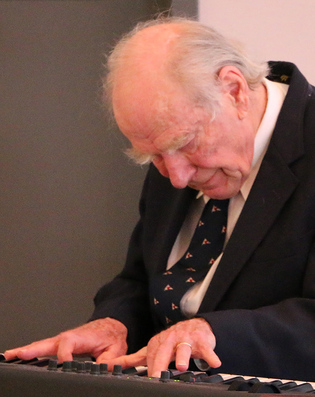 Edward "Ted" Almy Knowlton, 92, of Lincoln, Massachusetts, died peacefully on October 2, 2018, with his special dog, Boomer, at his feet and his wife of 33 years, Anne "Annie" (Preston) Raker Knowlton, by his side.
Ted was born to Edward "Ned" Allen Knowlton and Leila May (Osborne) Knowlton of Holyoke, Massachusetts, on August 26, 1926, in Westerly, Rhode Island. The family summered in Groton Long Point, Connecticut, where they owned the Duck, a 24-foot open sailboat which Ted skippered for many years. Along with his father, a prominent surgeon in Holyoke, and his grandfather, Hosea Morrill Knowlton, former attorney general for the Commonwealth of Massachusetts, Ted descended from one of the oldest families in New England. He attended public schools in Holyoke through grade 10, completed school at Phillips Exeter Academy, New Hampshire, and enlisted in the Army Air Corps in 1944.
At Yale University, Ted lived in Branford College, where he rowed in a championship 8 intramural crew team, and was a member of Zeta Psi fraternity. He graduated in 1950 with a BS in industrial administration, a combination of engineering and economics. In 1951, Ted married (the late) Marianne (Heimburg) Knowlton, and they and their four children lived in Winchester, Massachusetts, for many years.
Following a variety of engineering jobs, including developing an innovative line of products, six with patents, Ted gained electronics experience, capping his career at NEC Electronics by developing a floating point math package for computer controllers. Combining his computer and mechanical skills, as well as his musical pursuits, Ted built and developed a computer controlled precision piano tuner—with the prototype gracing his grand piano in the living room for many a year!
Throughout his life, Ted was deeply engaged in music as a jazz pianist, which built on early classical training followed by self-taught jazz improvisation during high school and university, and had regular gigs for the remainder of his life, including teaching at Berklee College of Music in Boston. He cherished the myriad musical colleagues he had the privilege to play with over the years, and his legendary jazz parties will be remembered.
With his wife, Annie, Ted became involved in the New England Old English Sheepdog Rescue as a charter member, and created NEOESR's website and database. Ted philosophically evolved to embrace the abiding concepts of Truth, Beauty, Goodness, and Love.
Ted is survived by Annie; his children Laurence (Suzanne), Polly (Robin), Liza (Clifford); stepchildren Robert (Annette), Deborah, Michael (Leslie), David (Lisa); many grandchildren, step-grandchildren, great-grandchildren, nieces, and nephews. He was predeceased by son Edward and siblings Sylvia, Archa, Bessie, and Harriette.
A celebration of Ted's life will be held at a later date. In lieu of flowers please consider a memorial donation to a charity of your choice.
—Submitted by the family.