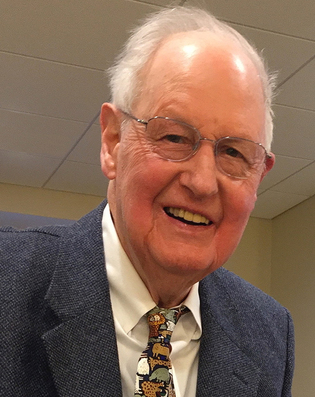 David VanBuskirk MD, professor emeritus of psychiatry at the University of Vermont College of Medicine and Shelburne, Vermont, resident, passed away at age 87 on November 4, 2019.
Dr. VanBuskirk served as director of child and adolescent psychiatry at the University of Vermont, previously director of child and adolescent psychiatry at Harvard's psychiatry Cambridge teaching hospital. VanBuskirk graduated from Exeter Academy, Yale University, and Harvard Medical School, with an internship and residency in internal medicine at Massachusetts General Hospital in Boston. He completed an additional residency in psychiatry, then a child psychiatry residency at the Massachusetts Mental Health Center, and graduated from the Boston Psychoanalytic Institute in 1971. He enjoyed serving for ten years as director of South Shore Mental Health Center, Quincy, Massachusetts. He was especially committed to community outreach. After retiring from UVM, Dr. VanBuskirk consulted to Vermont community health centers and served on the Dartmouth Medical School clinical faculty. He was an active member of the Vermont Association of Psychoanalytic Studies, recently working with colleagues to establish the Vermont Psychoanalytic Institute.
David VanBuskirk and his wife Elizabeth founded, with a notable Inca weaver, the large and now-thriving Center for Traditional Textiles of Cusco, Peru, working to preserve the great Inca weaving traditions before loss in this generation. He traveled there frequently, documenting today's Andean weavers and helping to develop international outreach. He exhibited his photography widely in the United States, including Weaving the Patterns of the Land, an exhibition at the UVM Fleming Museum of Art.
VanBuskirk is survived by his wife, Elizabeth Conrad VanBuskirk of Shelburne; his daughters Katharine VanBuskirk of Somerville, Massachusetts, and Lisa VanBarter of Felton, California; and his son Eric VanBuskirk, currently living in Vietnam. Also, his brother George of Baltimore and three grandchildren. He is predeceased by his brother Joseph.
Donations in his memory can be sent to Spectrum Youth and Family Services, 31 Elmwood Ave., Burlington, VT 05401.
—Submitted by the family.