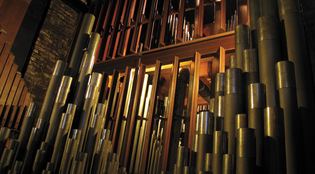 Mark Zurolo '01MFA
Divisions like the Swell Organ have louvers or "shades" to control volume. View full image
Once we reach the balcony, a small, nondescript door leads us to the organ chamber. Stepping inside, we enter a forest of pipes -- towering wood pipes the color of dark honey, ranks of narrow metal pipes arranged like miniature mountain ranges. Here too are the massive bellows that pump air into the pipes, held in place by powerful black springs.
The gilded front of the organ, with its elaborately decorated pipes, is only the public face of the organ. The reality is far more complex. The Newberry has 12,617 pipes in all, from delicate flutes a few inches long to a 32-foot Bombard that can make the hall shiver with its rumbling bass. The pipes are massed into divisions hidden behind the Woolsey proscenium. Each division produces a different sound -- there is the choir division, with pipes that imitate human voices; the orchestral division, with pipes that imitate the instruments of an orchestra; the great division, with pipes that make the characteristic "organ" sound, and more. There is even an "echo" division, toward the back of the hall and beneath the floor, which produces a distant, ethereal effect.
As Joe and Nick lead me up a stairway to the second level of pipes, they point out to me a bit of ancient graffiti: "H. Van Wart," carved into a wood panel beside the stairs. Harry Van Wart, Nick explains, was the foreman on the first two installations of the organ, in 1903 and 1915.