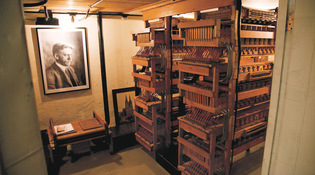 Mark Ostow
When the organ was rebuilt in 1928 by Ernest M. Skinner (left), he added a mechanism that "remembers" settings made by organists. A more sophisticated electronic system was installed in 2007, but caretakers keep the original system functional. View full image
The Newberry Organ was actually built in three stages, overseen by university organist Harry Benjamin Jepson. A stern and demanding teacher, Jepson was no less demanding of his new organ, hand-picking the best builders of his day. Fortunately, he had a willing set of donors in the Newberry family. The organ was named for John Stoughton Newberry, who, as it happens, never attended Yale and had no particular interest in organs. But his son Truman Handy Newberry was both a Yalie (Class of 1885) and an organ enthusiast. The Hutchings-Votey company began work on the first Newberry in 1901; both the organ and Woolsey Hall were dedicated in 1903.
By 1915 Jepson wanted an expansion. The Newberry family obliged, and Van Wart, now with J. W. Steere & Son, came back for the rebuilding. The Newberrys bankrolled a final expansion in 1928-29 by the Skinner Organ Company.
The Newberry's three installations occurred at the height of a national organ-building boom. Pipe organs were the perfect instrument for the industrial age -- large, technically complex, rapidly evolving, and capable of entertaining the masses in the days before amplification. With a decent pipe organ, a good organist could perform for hundreds, even thousands, for a fraction of the cost of hiring a symphony. An organ fad gripped the country, and new organs were built not only in churches and concert halls but also in movie theaters, mansions, department stores, and even private yachts.
The Newberry today is most fully the vision of Ernest M. Skinner, a self-taught genius who was the greatest American organ builder of the time. Born to a pair of itinerant musicians, Skinner was obsessed with organs from an early age; he tried to build his first at age 12. Though he barely attended high school, Skinner mastered the complexities of the organ through endless experimentation and soon began to invent mechanical devices that harnessed the power of the new century's technologies. Under his influence, organs became larger, more powerful, more responsive, and more musically flexible.
Skinner also expanded the musical vocabulary of organs. One of his abiding passions was for the lush romantic symphonies then popular, and he worked endlessly to create new pipe voices that could offer the same panoply of color as an orchestra.
As word of his talents spread, Skinner was increasingly in demand. Though a wretched businessman, he ran a workforce that, at its peak, included 200 craftsmen who could make and voice pipes, carve organ cases, and build the motors and complex electrical systems to control the instrument. Every organ was custom-built from scratch.
"Mechanically, they were the Duesenbergs of pipe organs," Nick says. "They were above and beyond all of their competition."
When Yale hired Skinner in 1928, he was at the height of his powers -- and, though he didn't know it, nearing the end of his active career. His company had just imported a younger man from England, G. Donald Harrison, supposedly to assist Skinner, but in fact to supplant him. Tastes were changing in the organ world, moving toward a more academic revival of Baroque music. The younger organists looked down on instruments like Skinner's as muddled "cafeterias" of stops.
For a few years, Harrison and Skinner got along well, and their combination of talents produced some of the country's greatest organs, including the Newberry. But the Newberry was also the first sign of trouble. Skinner ran late and over budget, as he was wont to do, and eventually Jepson told him to stay away from Yale and let Harrison finish the job.
In the years to come, Harrison revolutionized American organs, producing a brighter, cleaner, more unified sound. As part of the revolution, Harrison and other organ builders were hired to remake many of Skinner's instruments, ripping out pipes and retuning them. Skinner spent his waning decades in tortured frustration as he saw his greatest masterpieces destroyed, often by the company he had founded. He died in 1960, virtually forgotten.
By the mid-1950s, the Newberry Organ had gone out of fashion. Most of Yale's organ students preferred to play their recitals on Battell Chapel's newly installed neo-Baroque organ. There was even a plan to update the Newberry, but mercifully, Yale was broke at the time, so it was simply left intact.
Today, the Newberry is once again well loved -- perhaps too much so. It is so popular among the organ students that they must compete for playing time. The Newberry's caretakers carefully limit the instrument's schedule, but even so, university organist Thomas Murray estimates that the organ is in use for 30 hours a week. It is, he admits, "a little more than is ideal for wear and tear."