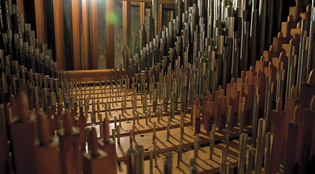 Mark Ostow
The organ's 12,617 pipes range from 32 feet tall to the size of a pencil. These small pipes are part of the echo division, housed in the basement at the rear of Woolsey Hall. View full image
Nick and Joe have a workshop in the basement of Woolsey Hall. The walls are covered with an enormous array of black-and-white photographs, including portraits of Skinner, G. Donald Harrison, Aubrey Thompson-Allen, and Aubrey's predecessor, Arthur Goeckler. Joe says the workshop looks pretty much the same as it did in Goeckler's day, down to the placements of springs and screws and brackets on the shelves.
Aubrey Thompson-Allen had come to the United States from England to work with Harrison, but he grew disillusioned with the direction organ-building had taken. When Goeckler offered him a chance to take over his organ repair business and to become the organ curator at Yale, Thompson-Allen jumped at the chance. According to Nick, the Newberry reminded Aubrey of the old organs he had worked on as a young man in England, particularly the one in St. Paul's Cathedral, which Aubrey had saved during the Blitz of London by stowing it in the crypt alongside Lord Nelson and Dr. Johnson.
Nick tagged along with his father on many repair jobs. "I was about five years old when he first came" to work on the Newberry, says Nick. "I knew the halls of Woolsey Hall organ chamber from a very young age. I used to go hiking around in there."
Every summer, Aubrey and his assistants would overhaul one section of the organ, removing deteriorating leather membranes and replacing them with new ones -- a practice Nick and Joe continue to this day. Aubrey also tactfully warded off any major changes to the organ.
"They handled it very deftly," recalls Charles Krigbaum, Yale's organist from 1965 through 1990. "Somebody would come and want something changed, and oh, sure, they would do it. But nothing that was changed permanently."
Nick learned his trade from his father. Joe came to the organ more circuitously: in college, one of his electrical engineering classes was taught in a church, and at the end of the term, the church organist gave the students a concert and a tour of the organ. "We went around the corner, opened up the door, turned on the light, and suddenly I was inside the belly of the beast," says Joe. "And I had my road-to-Damascus experience. I knew right then and there what I wanted to do for the rest of my life."
Joe joined Aubrey's business in 1968, and Nick soon after. In 1973, Aubrey retired and sold them the business. (He died a year later.) Not long afterward, in North Carolina, Nick and Joe carried out one of the nation's first restorations of a Skinner organ. They now travel around the country restoring old organs, particularly Skinners.
Like Aubrey, Joe and Nick take great pride in preserving the Newberry's sound and its look. They haven't won all their battles. For nearly two decades, they resisted Yale's efforts to install a modern computerized system that can automate hundreds of different combinations of the organ's 142 stops, instead of the two dozen possible with the original system. Proponents of computerizing argued that it would make life easier for student players. Nick and Joe argued that it would violate the Newberry's historical integrity. But when money came available a few years ago and the new system became inevitable, they worked with a contractor to minimize the invasiveness of the installation and to insure the original system remained functional.
But if Joe and Nick are sticklers about preserving the organ, they aren't fussy about it: at one point in my tour of the Newberry, I noticed that someone had patched a leaky gasket with the top of a pizza box.