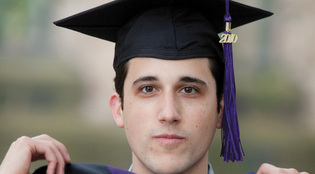 Mark Ostow
David Perez
Seattle, Washington
JD, Law School
What made you want to go to law school?
I've wanted to go to law school since I was in third grade. So, momentum. And an acceptance letter from Yale.
When you're in third grade, what gets you interested in law?
That's a good question. I don't know. It was a good decision, because I really liked it. A lot of people here didn't quite like law school. But it was really enjoyable for me.
What did you enjoy?
I liked the theory. I liked the arguments. I just liked the questions they ask and the answers they make us grapple with. Some people get excited about numbers, and some people get excited about diseases. I, for some odd reason, got excited about policy—and that's really all that law is.
What will you do after graduating?
I'm going to clerk in Seattle, on the Ninth Circuit. … Which side does the tassel go on?