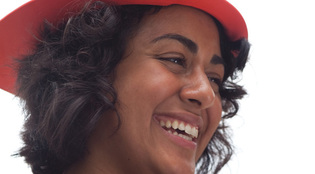 Mark Ostow
Alyssa Reyes
Stratford, Connecticut
Jonathan Edwards, Biomedical Engineering
Why are you wearing a fire hat?
My father's a firefighter.
How did you get interested in biomedical engineering?
I bounced around a little in the sciences. I went from biomedical engineering to biology to chemistry to chemical engineering and back to biomedical engineering. I liked the problem solving, the mathematical aspect of biomedical engineering. I was able to get to know everybody really well on a personal level. We've studied together, we've gone to Rudy's [Bar and Grill] together.
How many people were in your year?
It's somewhere around 20. We are a very diverse group. We have athletes. I'm a singer. We have people who were very interested in research, we had people that really aren't interested in research.
What's next?
I'll be attending medical school at the University of Pennsylvania.