Yale Alumni Classifieds
Ireland, Ancestral Home by Donegal Bay: Relax and explore Ireland from a lovely, renovated, historic farmhouse on the northwest coast of Ireland. Breathtaking views, nearby golf courses, beaches, hiking, castles, folklore sites, wonderful day excursions. Sleeps up to 10. Visit VRBO.com, listing #131249 or call 610-294-1031. https://www.vrbo.com/131249.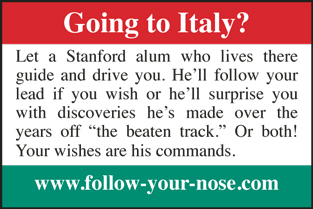 Florence centre, elegantly furnished apartments for short and long term rentals in a beautiful historical palazzo; www.palazzoantellesiflorence.com; 10% discount Yale Faculty and Alumni.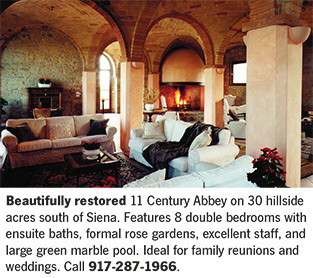 Italy, Rome: Spacious, stylish, renovated apartment near St. John Lateran. Two double bedrooms, two baths, Wi-Fi, elevator. $850/week. lm603@columbia.edu. 212-867-0489. www.casacleme.com.
Italy, Tuscany, Charming Farmhouse For Two: In the heart of the Chianti Classico region. For information and photographs, please visit: www.vrbo.com/168839. Yale '75.
Italy, Tuscany: 5 Bedroom, 5 bathroom beautiful villa. Spectacular views, gorgeous pools & gardens. 5 star reviews. www.LuxuryVillaTuscany.com.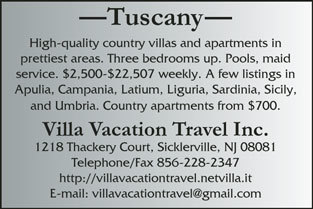 United States Virgin Islands, Hillcrest Guest House, St. John, lots of lonely beaches waiting for YOU. 340-998-8388. www.hillcreststjohn.com.