Yale Alumni Classifieds
France, Paris, Marais/Bastille: Enchanting one bedroom, renovated apartment on quiet pedestrian gated passage. Skylights, Parisian decor, Wi-Fi. Full kitchen, Fantastic location on cobblestone street. Walk to Place des Vosges, Seine, markets. Sleeps 2–3. Photos and info: www.charmingparisapt.com.
France, Paris-Marais: Exquisite, sunny one-bedroom apartment behind Place des Vosges, king-size bed, living room, dining room with six chairs, full kitchen, washer, dryer, weekly maid service. Wi-Fi. $1,350 weekly. max@gwu.edu.
France, Provence: Delightful 5-bedroom stone farmhouse. Pool, Wi-Fi. Facing Roman theater. 860-672-6608. www.frenchfarmhouse.com.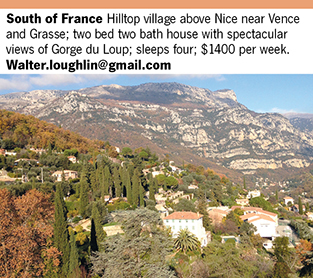 Ireland, Ancestral Home by Donegal Bay: Relax and explore Ireland from a lovely, renovated, historic farmhouse on the northwest coast of Ireland. Breathtaking views, nearby golf courses, beaches, hiking, castles, folklore sites, wonderful day excursions. Sleeps up to 10. Visit VRBO.com, listing #131249 or call 610-294-1031.
IRELAND: Seeking a Dream Vacation, Sabbatical or Golfing trip in Paradise? Storybook cottage in quiet seaside town of Fanore, Co. Clare has every modern convenience and panoramic vistas of sea and mountains in the heart of the Burren. Unchanged landscapes, traditional music scene, local pubs, world class golf, and views that will change your life. queally_m@yahoo.com http://www.vrbo.com/110839