Yale Alumni Classifieds
CORSICA. Located on the bay of Ajaccio in a private and peaceful enclave of exclusive villas, this 6 bedroom home has sea and mountain views that will leave you speechless. It is among the best Corsican luxury rentals for families, within easy reach of sandy beaches, the historical town of Ajaccio and the spectacular Corsican mountains, www.maremontivilla.com. Contact: maremonti20@optimum.net. Call 914-374-2411.
House exchange in beautiful Dordogne. Visit le-roc-de-clairet.com for details.
Paris: Luxurious, sun filled, large belle époque apartment just off Place St. Michel. Lovely details, fully equipped, cleaning 2x/week. Sleeps 5. Minimum week, $4,200. Call 617-491-0006. dantonapartment@gmail.com
Florence centre, elegantly furnished apartments for short and long term rentals in a beautiful historical palazzo; www.palazzoantellesiflorence.com; 10% discount Yale Faculty and Alumni.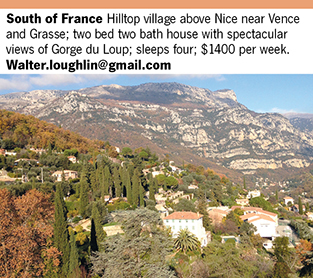 Paris 16th: Large, sunny, one bedroom, elevator, near shops, Métro Mirabeau. All creature comforts, perfect for sabbatical. Monthly only. trips@frenchtraveler.com.
Aix-en-Provence, Cours Mirabeau: Heart of town. Two bedroom, quiet, steps to shops, restaurants; garage. Perfect for exploring. $1,450 weekly. greatfrenchrentals@comcast.net.
France, Provence: Delightful 5-bedroom stone farmhouse. Pool, Wi-Fi. Facing Roman theater. 860-672-6608. www.frenchfarmhouse.com.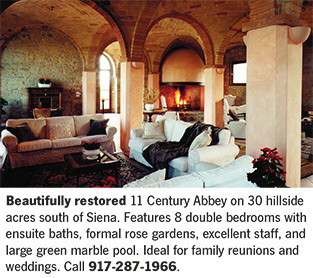 Italy, Tuscany: 5 Bedroom, 5 bathroom beautiful villa. Spectacular views, gorgeous pools & gardens. 5 star reviews. www.LuxuryVillaTuscany.com.