Yale Alumni Classifieds
SabbaticalHomes.com is the academic's premier resource for finding or offering a home to rent, exchange, sit or share. Discover trustworthy tenants and comfortable housing while on research, sabbatical or vacation. We've been proudly helping minds on the move since 2000— come see for yourself what a countless number of your peers have already been enjoying:www.SabbaticalHomes.com.
France, Paris, Marais/Bastille: Enchanting one- bedroom, renovated apartment on quiet pedestrian gated passage. Skylights, Parisian decor, Wi-Fi. Full kitchen. Fantastic location on cobblestone street. Walk to Place des Vosges, Seine, markets. Sleeps 2–3. Photos and info: www.charmingparisapt.com.
France, Provence: Delightful 5-bedroom stone farmhouse. Pool, Wi-Fi. Facing Roman theater. 860-672-6608. www.frenchfarmhouse.com.
Glorious Southern France (Alumni rates—please call to book early) Beautiful, spacious home in lively, enchanting village—voted France's "most beautiful village"— restaurants, markets, vineyards, bicycling, swimming. maisonsouthernfrance.com 617-608-1404
Italy, Tuscany: 5 Bedroom, 5 bathroom beautiful villa. Spectacular views, gorgeous pools & gardens. 5 star reviews. www.LuxuryVillaTuscany.com.
PARIS, Ile St Louis, triplex, C 1640, light-filled, quiet, 20' Cathedral ceiling, beamed throughout. Full kitchen, ovens, dishwasher, clothes washer/dryer, A/C, wood burning fireplace, WiFi, TV, HiFi/CD,. Sleeps 4, maid service, non-smokers, photos. Owner, frenchiedoc@gmail.com.
Mexico, Cabo: Short notice! 5 Star deluxe villa 2500 sq ft w/ sweeping ocean front view. 2 large bedrooms, full kitchen, living room, outdoor terrace, impeccable service. $700/night no minimum Oct 14 - Oct 21 Call 310-909-4007 or email agoldmark@mac.com.
PARIS—MARAIS. Renovated 17th-century, tri-level, top-floor, courtyard apartment. Central, quiet, exposed beams, hardwood floors, fireplace, fully equipped. Non-smokers. Week/Month. 206- 723-6538; www.acrossthewater.net.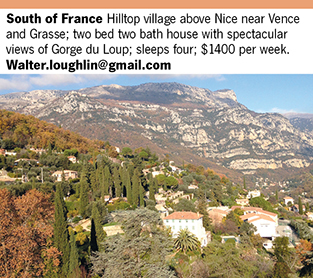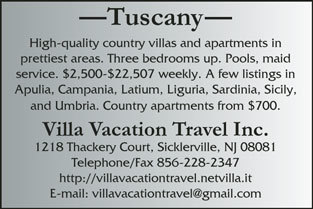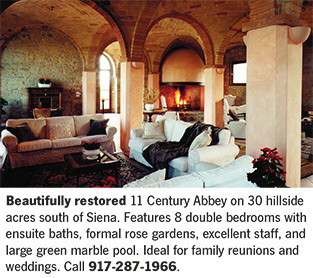 United States Virgin Islands, Hillcrest Guest House, St. John, lots of lonely beaches waiting for YOU. 340-998-8388. www.hillcreststjohn.com.
Paris: Luxurious, sun-filled, large belle époque apartment just off Place St. Michel. Lovely details, fully equipped, cleaning 2x/week. Sleeps 5. Minimum week, $4,200. Call 617-491-0006. dantonapartment@gmail.com.
Paris, near Louvre, Opera, Tuilerie Gardens, Designer Shops. Comfortably furnished apartment (pied a terre), sleeps two. Length of stay determines cost. apower7@icloud.com. 831-521-7155.