Yale Alumni Classifieds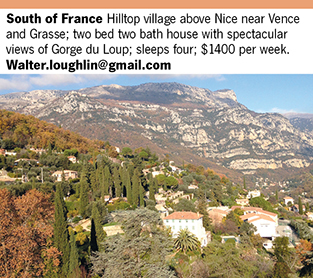 France, 16th-Century Chateau in southwest France. Luxuriously appointed. Fairy-tale towers, baronial hall. Breathtaking pool house with infinity pool. Sleeps 16. knock@chateau-x.fr (Yale '92).
France, Burgundy, Côte d'Or, Wine Country: Classic French village house adjacent to
historic château. French countryside, 30
minutes from Beaune and Burgundy's best
vineyards. Three bedrooms, large salon, fully equipped modern kitchen, 2 baths, washer,
dryer, Wi-Fi, satellite HDTV, stereo, DVD. Sleeps 6. Private garden. Perfect for hiking, biking in
countryside. 4 bicycles provided. US $1,500/week. www.franceburgundycottage.com.
Available April to November. Contact:
W. Kenneth Thompson, wktbristol@gmail.com,
802-453-7855.
France, Paris, 7th Arrondissement: Fifth floor, quiet studio. Sleeps 3. Balcony, view Eiffel Tower. www.parisgrenelle.com. 207-752-0285.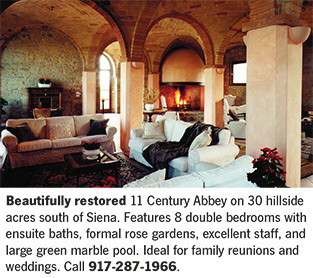 France, Paris, Ile St. Louis: Elegant, spacious top-floor skylighted apartment, gorgeous view overlooking Seine, 2 bedrooms sleep 4, 2 baths, elevator, well-appointed, full kitchen, Wi-Fi. 678-232-8444, triff@mindspring.com.
Provence, France: Stunning country house, sleeps 12/14, large heated pool. Fantastic cycling, hiking, golf, restaurants and vineyards! + 011 33 684 146260. gvcauston@gmail.com.
Saint-Cirq-Lapopie. (Alumni Discount) Voted 'most beautiful village' in Southern France. Beautiful 4-bedroom home in lively, enchanting, medieval, artists' village- restaurants, markets, vineyards, museums, bicycling, swimming. maisonsouthernfrance.com. 617-608-1404.
Tuscany Montepulciano: culture, wine, thermal bath country. Spacious 3-4 bedrooms/3 baths (3000euros/wk) or 2 bedroom/2baths (2500 euros/wk), apartment in city center – views of countryside from terrace and garden; fully equipped kitchen, laundry, WiFi. Day trips to Siena, Florence. 2 weeks min. skim@koetterkim.com.