Yale Alumni Classifieds
SabbaticalHomes.com is the academic's premier resource for finding or offering a home to rent, exchange, sit or share. Discover trustworthy tenants and comfortable housing while on research, sabbatical or vacation. We've been proudly helping minds on the move since 2000— come see for yourself what a countless number of your peers have already been enjoying:www.SabbaticalHomes.com.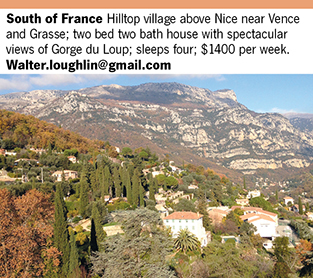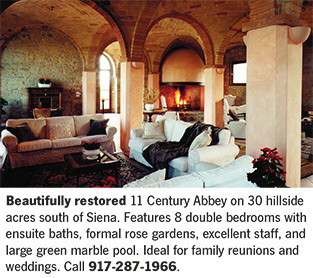 Affordable Weekly Timeshare Rentals
by-owner feature full kitchens, balconies, fireplaces, and multiple bedrooms. Find weekly timeshare rentals in popular travel destinations across the globe for less! 877-815.4227
www.sellmytimesharenow.com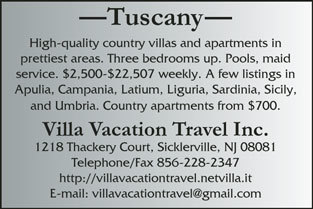 Florence centre, elegantly furnished apartments for short and long term rentals in a beautiful historical palazzo; www.palazzoantellesiflorence.com; 10% discount Yale faculty and alumni.
France, 16th Century Chateau in southwest France. Luxuriously appointed. Fairy-tale towers, baronial hall. Breathtaking pool house, infinity pool, Viking BBQ. Sleeps 16. knock@chateau-x.fr (Yale '92)
France, Paris-Marais: Exquisite, sunny one-bedroom apartment behind Place des Vosges, king-size bed, living room, dining room with six chairs, full kitchen, washer, dryer, weekly maid service. Wi-Fi. $1,350 weekly. max@gwu.edu.
France, Paris, 7th Arrondissement: Fifth floor, quiet studio. Sleeps 3. Balcony, view Eiffel Tower. www.parisgrenelle.com. 207-752-0285.
France, Paris, Ile St. Louis: Elegant, spacious top-floor skylighted apartment, gorgeous view overlooking Seine, 2 bedrooms sleep 4, 2 baths, elevator, well-appointed, full kitchen, Wi-Fi 678-232-8444, triff@mindspring.com.
Italy, Rome: Spacious, stylish, renovated apartment near St. John Lateran. Two double bedrooms, two baths, Wi-Fi, elevator. $850/week. lm603@columbia.edu. 212-867-0489. www.casacleme.com.
Glorious Southern France: (Alumni rates—please call to book early) Beautiful, spacious home in lively, enchanting village—voted France's "most beautiful village"— restaurants, markets, vineyards, bicycling, swimming. maisonsouthernfrance.com 617-608-1404
Life in the Piazza. Elegant three bedroom, two bath apartment in the heart of a small hill town near Siena, Florence and Città della Pieve. Everything you need to live like a local. Contact: philippamannino@yahoo.com