Yale Alumni Classifieds
France, Burgundy, Côte d'Or, Wine Country: Luxurious 18th-century village house adjacent to historic château. French countryside, 30 minutes from Beaune and Burgundy's best vineyards. Three bedrooms, large salon, fully equipped gourmet kitchen, 2 baths, washer, dryer, Wi-Fi, satellite HDTV, stereo, DVD. Sleeps 6. Private garden. Perfect for hiking, biking in countryside. 4 bicycles provided. US $1,500/week. www.franceburgundycottage.com. Available April to November. Contact: W. Kenneth Thompson, wktbristol@gmail.com, 802-453-7855.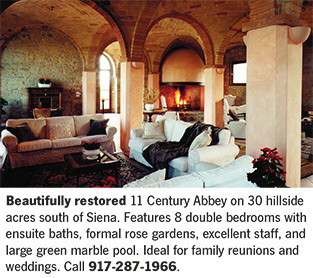 France, Paris-Marais: Exquisite, sunny one-bedroom apartment behind Place des Vosges, king-size bed, living room, dining room with six chairs, full kitchen, washer, dryer, weekly maid service. Wi-Fi. $1,350 weekly. max@gwu.edu.
France, Paris, 7th Arrondissement: Fifth floor, quiet studio. Sleeps 3. Balcony, view Eiffel Tower. www.parisgrenelle.com. 207-752-0285.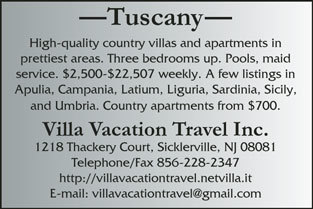 France, Paris, Ile St. Louis: Elegant, spacious top-floor skylighted apartment, gorgeous view overlooking Seine, 2 bedrooms sleep 4, 2 baths, elevator, well-appointed, full kitchen, Wi-Fi 678-232-8444, triff@mindspring.com.
France, Provence: Delightful 5-bedroom stone farmhouse. Pool, Wi-Fi. Facing Roman theater. 860-672-6608. www.frenchfarmhouse.com.
Glorious Southern France (Alumni rates—please call to book early) Beautiful, spacious home in lively, enchanting village—voted France's "most beautiful village"— restaurants, markets, vineyards, bicycling, swimming. maisonsouthernfrance.com 617-608-1404
Heart of Tuscany: Montepulciano. Elegant architect designed home with garden and terrace overlooking countryside in town center: 4 bedrooms, 3 baths, grand entry, spacious livingroom w/fireplace, kitchen & separate kitchenette, washer/dryer, Jacuzzi, Wi-Fi. Easy daytrips to Florence, Siena, Arezzo, vineyards, thermal baths. Great place to entertain.$2950/week. Min. 2 week rental. skim@koetterkim.com.
Italy, Tuscany: 5 bedroom, 5 bathroom beautiful villa. Spectacular views, gorgeous pool & gardens. 5 star reviews. www.LuxuryVillaTuscany.com.
Life in the Piazza. Elegant three bedroom, two bath apartment in the heart of a small hill town near Siena, Florence and Città della Pieve. Everything you need to live like a local. Contact: philippamannino@yahoo.com
PARIS - MARAIS. Renovated 17th-century, tri-level, top-floor, courtyard apartment. Central, quiet, exposed beams, hardwood floors, fireplace, fully equipped. Non-smokers. Week/Month. 206-723-6538; www.acrossthewater.net.
Paris: Luxurious, sun-filled, large belle époque apartment just off Place St. Michel. Lovely details, fully equipped, cleaning 2x/week. Sleeps 5. Minimum week, $4,200. Call 617-491-0006. dantonapartment@gmail.com.