Yale Alumni Classifieds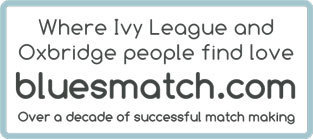 Energetic, petite, outrigger canoeist, kayaker, rail-trail cyclist, XC skier, involved with community betterment, politically left (Smith '78, Yale widow, no offspring, just dog) seeks fit, clever, outgoing man (54-65 y/o) to share interests and life. Charlottesville.Long distance OK.gardenerwithenthusiasm@gmail.com
NYC gay man, Williams BA, NYU JD, Yale PhD, 70, 5'8", 150 lb, athletic, vegan, teetotaler, non-smoker, divorced, seeks like-minded man for
affection and intimacy. See www.danpinello.com
Our client is a vivacious blonde, sophisticated 68-year-old Manhattan dweller with a home in the horse country of NJ as well. She is a lecturer at a top NYC museum and has three Masterâs degrees. She loves the outdoors, winter sports, the seashore, sailing, all cultural activities, and is very well-traveled. We are seeking an educated, self-aware gentleman with a sense of humor who loves art and adventure. There is no charge for you as our clients pay our fees.
Contact bonnie@bonniewinstonmatchmaker.com
or call 1-833-300-LOVE.
Seeking men 36-75 to introduce to our outstanding/attractive female clients in Ct/New England, New York and beyond. We have experienced an unprecedented demand for private, vetted introductions to like-minded, Ivy-educated, fit, professionals seeking love and wishing to share their lives. Confidentiality assured. Reach out to: sandy@therighttimeconsultants.com, 212-627-0121. www.therighttimeconsultants.com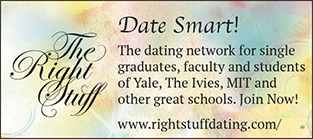 Yale alumna, retired professor, attractive, engaging with homes in Manhattan and Berkshires, seeks fit, thoughtful, outgoing man (78-86 y/o), who enjoys books, country hikes, Tanglewood, N.Y.C. aleksandramk21@gmail.com
Yale/Oxford-educated, professional woman, 65, classic looks and tastes, feminine, playful, spirited, kind-hearted, cultured, myriad interests, avid international traveler. Seeks a quality man with character and depth to share the next chapter in life -- one filled with love, laughter, romance, passion and adventure. Greenwich, CT. Open to other geographies. terryd812@gmail.com
If you're looking for a wife, go to the next ad. Worldly, other-worldly beauty with a love of banter and intellectual conversation seeks a playmate. I am musical and accomplished in the peak of my retirement years and seek a gentleman who can entertain and enthrall me with his wit and wisdom. Contact Tina at Tina@needleinahaystack.main@gmail.com