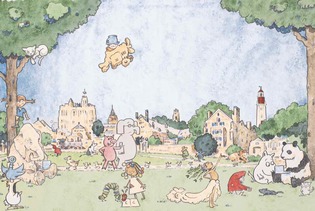 Elisha Cooper '93
Characters are copyrighted and used with permission. See below for identification. View full image
Children's books are "vessels of memory," says Beinecke books curator Timothy Young; many of them stay in young readers' minds all their lives. Yale writers and artists have produced countless children's books. A few examples: Clement Hurd '30PhD illustrated Goodnight Moon; William R. Scott '31 published it. George Selden Thompson '51 wrote A Cricket in Times Square. Sandra Boynton '74 started with Hippos Go Berserk and has written dozens since. (See more Yalie authors in the sidebar at left.)

What moves someone to write a book for kids? In the following pages, Elisha Cooper '93 and Carol Weston '78 tell how they came to their craft. Following their essays, you'll find short reviews of other recent books written or illustrated by Yale alumni.

Of course, some authors illustrate their own books. Our cover and the illustration above were painted by Cooper, a Caldecott Honor winner. If you need help identifying the classic children's book characters, there's a complete guide here.
"Evolution of an Author," by Elisha Cooper '93
"There's Time," by Carol Weston '78
Picture books by Yale alums, reviewed by Sibongile Sithe '11
Chapter books by Yale alums, reviewed by Bruce Fellman